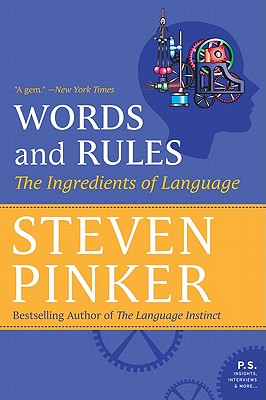 Words and Rules (Paperback)
The Ingredients of Language
Harper Perennial, 9780062011909, 348pp.
Publication Date: March 8, 2011
Other Editions of This Title:
Paperback (7/14/2015)
Hardcover (1/1/1999)
Paperback (11/1/2000)
MP3 CD (8/4/2015)
Compact Disc (8/4/2015)
* Individual store prices may vary.
Description
How does language work? How do we learn to speak? Why do languages change? Why do they have so many quirks? What does language reveal about the mind?
Steven Pinker explores the mysteries of language in this original and hugely entertaining book. Pinker uses a deceptively simple phenomenonregular and irregular verbsto illuminate an astonishing array of topics: the history of languages, what we can learn from children's grammatical mistakes, the genetic and neurobiological underpinnings of language, and some of the major themes in Western philosophy. The key ideathat language comprises a mental dictionary of memorized words and a mental grammar of creative rulesextends beyond language, offering insight into the nature of thinking. For fans of The Language Instinct and The Stuff of Thought, here is another cornucopia of ideas about language and mind.
or
Not Currently Available for Direct Purchase