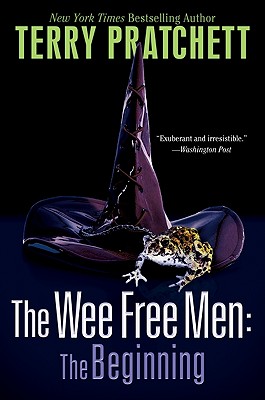 The Wee Free Men
The Beginning: The Wee Free Men and A Hat Full of Sky (Tiffany Aching)
Paperback

* Individual store prices may vary.
Description
Laugh-out-loud humor and thrilling action combine in this book, which features the complete text of The Wee Free Men and A Hat Full of Sky. These two books launched the unforgettable adventures of a determined young witch and her tiny but fierce blue friends.
"Exuberant and irresistible." —The Washington Post
"What's not to love about a girl who takes on vicious monsters armed with only a frying pan?" —Publishers Weekly (starred review)
When Tiffany Aching sets out to become a witch, she faces ominous foes and gains unexpected allies. As she confronts the Queen of Fairies and battles an ancient, bodiless evil, she is aided (and most ably abetted) by the six-inch-high, fightin', stealin', drinkin' Wee Free Men.
As George R. R. Martin said: "Terry was one of our greatest fantasists, and beyond a doubt the funniest."
HarperCollins, 9780062012173, 576pp.
Publication Date: August 24, 2010
About the Author
Sir Terry Pratchett was the internationally bestselling author of more than thirty books, including his phenomenally successful Discworld series. His young adult novel, The Amazing Maurice and His Educated Rodents, won the Carnegie Medal, and Where's My Cow?, his Discworld book for "readers of all ages," was a New York Times bestseller. His novels have sold more than seventy five million (give or take a few million) copies worldwide. Named an Officer of the British Empire "for services to literature," Pratchett lived in England. He died in 2015 at the age of sixty-six.
or
Not Currently Available for Direct Purchase