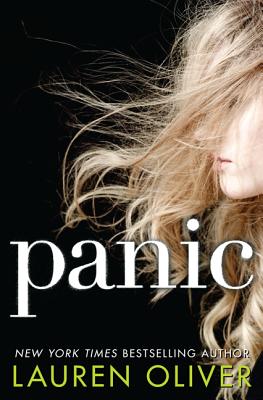 Panic
Hardcover

* Individual store prices may vary.
Other Editions of This Title:
Digital Audiobook (3/3/2014)
Paperback (3/10/2015)
Compact Disc (3/4/2014)
Compact Disc (3/4/2014)
Description
From New York Times bestselling author Lauren Oliver comes a captivating, thrilling novel of fear, friendship, courage, and hope that will leave readers gasping for air. Now a television series on Prime Video, starring Olivia Welch, Mike Faist, Jessica Sula, Enrique Murciano, Camron Jones, and Ray Nicholson!
E. Lockhart, author of We Were Liars, calls Panic "a thrill a minute." Kirkus says: "Will have readers up until the wee hours," School Library Journal raves: "Fast-paced and captivating."
Panic began as so many things do in Carp, a poor town of twelve thousand people in the middle of nowhere: because it was summer, and there was nothing else to do. Heather never thought she would compete in panic, a legendary game played by graduating seniors. She'd never thought of herself as fearless, the kind of person who would fight to stand out. But when she finds something, and someone, to fight for, she will discover that she is braver than she ever thought.
Dodge has never been afraid of panic. His secret will fuel him, and get him all the way through the game; he's sure of it. But what he doesn't know is that he's not the only one with a secret. Everyone has something to play for. For Heather and Dodge, the game will bring new alliances, unexpected revelations, and the possibility of first love for each of them—and the knowledge that sometimes the very things we fear are those we need the most.
Read the book that inspired the series, which the New York Times described as "Reminiscent of 'The Hunger Games' but grounded in the real world."
Praise For Panic…
"Oliver makes a white-knuckle return to realism that will have readers up until the wee hours." — Kirkus Reviews (starred review)
"Oliver's novel is a wholly believable and compulsively readable tale of friendship, loyalty, survival, and courage." — Booklist
Praise for Before I Fall: "Oliver's debut novel is raw, emotional, and, at times, beautiful....readers will love Samantha best as she hurtles toward an end as brave as it is heartbreaking." — Publishers Weekly (starred review)
Praise for Before I Fall: "Samantha's attempts to save her life and right the wrongs she has caused are precisely what will draw readers into this complex story and keep them turning pages until Sam succeeds in living her last day the right way." — Voice of Youth Advocates (VOYA) (starred review)
Praise for Before I Fall: "Oliver, in a pitch-perfect teen voice, explores the power we have to affect the people around us in this intensely believable first novel...This is a compelling book with a powerful message and should not be missed." — ALA Booklist
Praise for Before I Fall: "This story races forward, twisting in a new direction every few pages, its characters spinning my emotions from affection to frustration, anger to compassion. You'll have no choice but to tear through this book!" — Jay Asher, author of the New York Times bestseller Thirteen Reasons Why
Praise for Before I Fall: "Before I Fall is smart, complex, and heartbreakingly beautiful. Lauren Oliver has written an extraordinary debut novel about what it means to live—and die." — Carolyn Mackler, author of the Printz Honor Book The Earth, My Butt, and Other Big, Round Things
Praise for Delirium: "In [Oliver's] dystopian America, love has been outlawed as the life-threatening source of all discord. Lena's gradual awakening is set against a convincing backdrop of totalitarian horror. The abrupt ending leaves enough unanswered questions to set breathless readers up for volume two of this trilogy." — Kirkus Reviews (starred review)
Praise for Delirium: "Strong characters, a vivid portrait of the lives of teens in a repressive society, and nagging questions that can be applied to our world today make this book especially compelling and discussable." — School Library Journal (starred review)
Praise for Delirium: "In a thick climate of fear, Oliver spins out a suspenseful story of awakening and resistance with true love at its core." — The Horn Book
Praise for Delirium: "Oliver's deeply emotional and incredibly well-honed prose commands the readers' attention and captures their hearts. With a pulse-pounding tempo and unforeseen twists and turns, Lauren Oliver has opened the door on a fantastic new series; the second book can't come soon enough." — New York Journal of Books
Praise for PANDEMONIUM: "From the grief-stricken shell of her former self to a nascent refugee and finally to a full-fledged resistance fighter, Lena's strength and the complexity of her internal struggles will keep readers up at night." — Kirkus Reviews (starred review)
Praise for PANDEMONIUM: "This is a romance in the purest of senses, where just the longing for the faintest taste of love is worth the greatest of risks. Like all successful second volumes, this expands the world and ups the stakes, setting us up for the big finale." — ALA Booklist
Praise for PANDEMONIUM: "If...you crave the heart-stopping action of the arena from The Hunger Games combined with a destined-to-be-doomed love story then this sequel is perfect for you!" — Seventeen.com
Praise for PANDEMONIUM: "Following directly on the heels of Delirium, Pandemonium is equally riveting. The underlying theme that love will win out regardless of prohibition is a powerful idea that will speak to teens." — School Library Journal
Praise for Requiem: "Before starting, readers should turn off their cellphones and wipe their schedules clean, because once they open the book, they won't be able to stop. A dystopian tour de force." — Kirkus Reviews (starred review)
Praise for Requiem: "Is there a theme more perfect for YA readers than choosing what you want from life rather than being told?" — ALA Booklist
HarperCollins, 9780062014559, 416pp.
Publication Date: March 4, 2014
About the Author
Lauren Oliver is the cofounder of media and content development company Glasstown Entertainment, where she serves as the President of Production.
She is also the New York Times bestselling author of the YA novels Replica, Vanishing Girls, Panic, and the Delirium trilogy: Delirium, Pandemonium, and Requiem, which have been translated into more than thirty languages. The film rights to both Replica and Lauren's bestselling first novel, Before I Fall, were acquired by Awesomeness Films. Before I Fall was adapted into a major motion picture starring Zoey Deutch. It debuted at the Sundance Film Festival in 2017, garnering a wide release from Open Road Films that year.
Oliver is a 2012 E. B. White Read-Aloud Award nominee for her middle-grade novel Liesl & Po, as well as author of the middle-grade fantasy novel The Spindlers and The Curiosity House series, co-written with H.C. Chester. She has written one novel for adults, Rooms.
Oliver co-founded Glasstown Entertainment with poet and author Lexa Hillyer. Since 2010, the company has developed and sold more than fifty-five novels for adults, young adults, and middle-grade readers. Some of its recent titles include the New York Times bestseller Everless, by Sara Holland; the critically acclaimed Bonfire, authored by the actress Krysten Ritter; and The Hunger by Alma Katsu, which received multiple starred reviews and was praised by Stephen King as "disturbing, hard to put down" and "not recommended…after dark."
Oliver is a narrative consultant for Illumination Entertainment and is writing features and TV shows for a number of production companies and studios.
Oliver received an academic scholarship to the University of Chicago, where she was elected Phi Beta Kappa. She received a Master of Fine Arts in Creative Writing from New York University.
www.laurenoliverbooks.com.
Book Videos