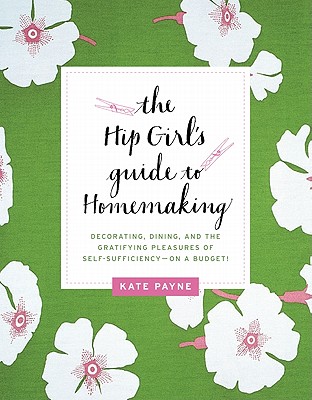 The Hip Girl's Guide to Homemaking (Paperback)
Decorating, Dining, and the Gratifying Pleasures of Self-Sufficiency--On a Budget!
Harper Design, 9780062014702, 266pp.
Publication Date: April 19, 2011
* Individual store prices may vary.
or
Not Currently Available for Direct Purchase
Description
"I am a hugefan Kate Payne has nailed it in this humorous and creative guide for fabulous, chic and easy-on-the-wallet ideas for your home. . . . another must have for mygirlfriends." --Kim Barnouin, co-author of the #1 New York Times bestseller, Skinny Bitch

"Anencouraging, non-perfectionist, step-by-step guide for creating a pleasurablehome without killing yourself (or the planet)." --Sally Schneider, Founder of TheImprovisedLife.com, and author of The Improvisational Cook

Artist, creator, and self described "half-assed domestic goddess" KatePayne delivers a savvy and resourceful guide to creative home living. With aknowledgeable, encouraging, and no-nonsense tone, the Brooklyn-bred, Austin-baseddomestic guru dispenses her need-to-know advice on thrift stores, flea markets, Craigslist, interior design, decorating, cooking, crafting, and the best waysto embrace an artistic lifestyle.
Praise For The Hip Girl's Guide to Homemaking: Decorating, Dining, and the Gratifying Pleasures of Self-Sufficiency--On a Budget!…
"My daughter is moving into her first apartment next year. Along with boxes of second hand linens and furniture from the attic, she's getting this fresh, modern, and enthusiastic primer on all things housekeeping."
-Eugenia Bone, New York Times writer and author of The Denver Post's Well-Preserved blog and the Well-Preserved book

Living comfortably in your home is endlessly rewarding, and all it takes is attention and creativity. I'm so convinced that I'm taking Kate's advice on bread baking this very week!
-Zora O'Neill, co-author of Forking Fantastic! Put the Party back in Dinner Party

I am a huge fan of The Hip Girl's Guide to Homemaking! Kate nailed it in this humorous, creative guide for fabulous, chic, and easy-on-the-wallet ideas. It's a joy to read a book that makes you laugh and get great ideas from—another must have for my girlfriends
-Kim Barnouin, co-author of the #1 New York Times Bestseller, Skinny Bitch

The Hip Girl's Guide to Homemaking is a wonderfully insightful, encouraging, non-perfectionist guide for creating a pleasurable home without killing yourself (or the planet). It's full of information your mother forgot to tell you, that will help you live well and sustainably, and have fun in the process.
-Sally Schneider, Founder of 'the improvised life' website, author of The Improvisational Cook and A New Way to Cook.

This should be required reading for anyone with a roof over their heads. You'll find yourself returning to it again and again, whether you're looking for party ideas or which side of the place setting the napkin goes on.
-Ashley English, author of the Homemade Living book series and small measure blog

The Hip Girl's Guide to Homemaking will release your hidden domestic talents. Kate's friendly voice will transform even the most clueless guy or gal into a homemaking marvel. Loaded with smart, frugal, and pragmatic tips, it is the ideal home-life manual for the modern age.
-Marisa McLellan, creator of foodinjars.com
Advertisement