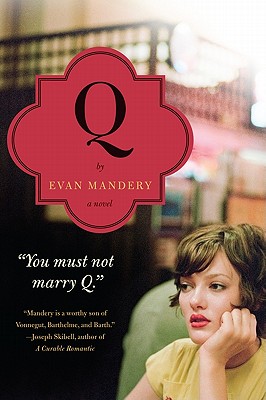 Q (Paperback)
A Novel
William Morrow Paperbacks, 9780062015839, 368pp.
Publication Date: August 23, 2011
* Individual store prices may vary.
Description
"A philosophical, witty, wonderful, and altogether magical love story."
—M.J. Rose, author of The Hypnotist
"Amiably outrageous….Mandery is a worthy son of those great writers of the 1970s, Vonnegut, Barthelme, and Barth."
—Joseph Skibell, author of A Curable Romantic
"I've never read anything like it and enjoyed every minute of it!"
—Jessica Anya Blau, author of Drinking Closer to Home
Q: A (Timeless) Love Story is a smart, romantic, and funny novel about tender and requited love, a wonderfully original literary feat from Evan Mandery, a rapidly rising fiction star. Taking the classic love story and turning it on its head, Mandery brilliantly blends outrageous humor, existential philosophy, and heartbreaking angst while offering a wealth of satisfying surprises. Funny and wise, a magical tale of a man obsessed yet unable to allow himself the fulfillment of a perfect romance with the one true love of his life, Q: A (Timeless) Love Story is a uniquely delightful work of fiction from one of the most exciting novelists currently on the literary scene.

Praise For Q: A Novel…
"[A] delightful New York-infused novel …. A word to the tear prone: Don't attempt to read the ending in public."

"[A] deeply funny, seriously smart novel, at times both romantic and pragmatic. Fans of Mark Kurlansky and Matthew Norman will appreciate Mandery's eloquently witty authorial voice....Q is a remarkably refreshing work, full of energy and eminently absorbing."

"Q. is an amiably outrageous exploration of the sweetest sadnesses of life. A graceful, philosophical and gentle satirist, Mandery is a worthy son of those great writers of the 1970s, Vonnegut, Barthelme and Barth."

"A philosophical, witty, wonderful and altogether magical love story. Existential questions have never been couched in a more tender way."

"Q caught me by surprise; I've never read anything like it and enjoyed every minute of it! It is a smart, funny, book that surprised me all the way to the end. Mandery knots up history, philosophy, and love into Q, it's utterly original and totally unforgettable."
Q raises some important moral questions. Was it ethical for the older version of the main character, I-55, to encourage the main character to change the path of his life? What about the other older versions?
Relatedly, and perhaps most importantly, was it ethical for the main character to decide to abandon Q? Did Q have a right to know the basis for his decision?
Are the main character and the future versions of himself the same people? If not, what implications does this have for how we think of ourselves? Is a ten-year old version of myself the same person as me? A thirty-year older version? Fifty?
In Q, the price of time travel is extremely high. Does it matter whether a new technology is egalitarian, meaning that it is accessible to all people? Would time travel, on the terms discussed in Q, be an improvement to society?
The debate between Herbert Spencer and Sigmund Freud in Chapter 18 is central to the theme of the book. All of the future versions of the main character believe they are making the main character's life better. Is this belief in progress real or is faux-Freud correct in saying that it is something humans have created to make their lives palatable?
Is Q's father a believable character? Is it possible that he is a different person with Q than in his business dealings?
The author writes the entire book in present tense. What do you think of this as a literary technique? What, if anything, is the author's message in making this choice?
Q is a comedy with a supremely tragic premise. Are these choices compatible or incompatible?
If you could visit yourself at an earlier point, where would you go and what, if anything, would you say?
If you could visit another place and time, where and when would you go?