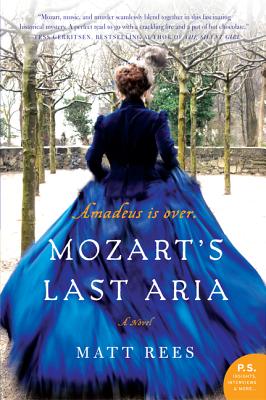 Mozart's Last Aria (Paperback)
A Novel
Harper Perennial, 9780062015860, 336pp.
Publication Date: November 1, 2011
Other Editions of This Title:
MP3 CD (5/1/2016)
Compact Disc (5/1/2016)
Hardcover (5/1/2011)
Paperback (2/1/2012)
* Individual store prices may vary.
Description
Award-winning author Matt Rees takes readers to 18th centuryAustria, where Mozart's estranged sister Nannerl stumblesinto a world of ambition, conspiracy, and immortal music while attempting touncover the truth about her brother's suspicious death. Did Mozart's life endin murder? Nannerl must brave dire circumstances tofind out, running afoul of the secret police, the freemasons, and even theAustrian Emperor himself as she delves into a scandal greater than she had everimagined. With captivating historical details, compelling characters, and areal-life mystery upon which everything hinges, Rees—the award-winning authorof the  internationally acclaimed Omar Yussefcrime series—writes in the tradition of Irvin Yalom'sWhen Nietzsche Wept, Louis Bayard's The Pale Blue Eye, andPhillip Sington's The Einstein Girl to achievethe very best in historical fiction with Mozart's Last Aria.
About the Author
Matt Rees is an award-winning crime novelist and foreign correspondent. He is the author of the internationally acclaimed Omar Yussef crime series, including The Collaborator of Bethlehem. He is also the author of Cain's Field, a nonfiction account of Israeli and Palestinian society. Matt lives in Jerusalem.
Praise For Mozart's Last Aria: A Novel…
"Matt Rees cleverly weaves music, crime, and conspiracy into a sumptuous historical whodunit, set against the decadent backdrop of 18th-century Vienna."
— Marie Claire

"Rees nails the details of Mozart's Vienna with precision, seasoning his story with musical details that will delight fans of classical music. . . . A beautiful book lluminated by the author's own musical background that moves slowly and deliberately to a fine conclusion."
— Kirkus Reviews (starred review)

"Engaging, well-paced. . . . Combining Dan Brown or Elizabeth Kostova–style historical conspiracy theory with cozy detective novel, Rees's latest offers a genuinely felt reverence for the power of Mozart's music and its lasting impact in the world."
— Publishers Weekly

"An excellent choice for mystery fans and historical fiction readers."
— Booklist

"Mozart, music, and murder seamlessly blend together in this fascinating historical mystery. A perfect read to go with a crackling fire and a pot of hot chocolate."
— Tess Gerritsen, New York Times bestselling author of The Silent Girl

"A stunning combination of mystery and meticulously researched historical fiction. . . . A sweeping, gorgeously written book."
— Tasha Alexander, author of Dangerous to Know

"Mozart fans and codecrackers will enjoy the clever musical riddle. A very readable historical mystery romp."
— The Times (London)

"This absorbing Viennese soap opera is a solid choice for readers who like fiction about historical figures caught up in suspenseful intrigues such as Matthew Pearl's The Dante Club or Gyles Brandreth's Oscar Wilde mysteries."
— Library Journal
The physical similarity between Nannerl and her dead brother Wolfgang plays a role in Mozart's Last Aria. What other similarities do there seem to be between the two of them?
The most famous person mentioned in the book, Wolfgang Mozart, dies without us meeting him. What do we learn about him from the other characters? Were you surprised to find him portrayed that way? What did you know about him before reading this novel?
Nannerl Mozart was a child prodigy, playing her music all over Europe, until her father decided to focus on Wolfgang. Was she overshadowed by her brother because he was a greater talent? Or was it because she was a woman?
Nannerl is surprised to learn that Wolfgang's wife Constanze resents the way she treated her when they first met years before. What else does Nannerl learn about her past behavior? And how do the events of the novel change her?
Though she falls in love with Baron van Swieten, Nannerl leaves him and returns to her family. Does she go back to her husband and children out of love for the children? Or just out of the kind of duty people of that period felt?
Would you have stayed in Vienna with the Baron, if you had been Nannerl?
Wolfgang's music plays an important role in the plot, particularly The Magic Flute. Did this change the way you listen to Mozart's music?
All the book's characters are real historical figures. But Matt Rees points out in his Author's Note that he changed some of the events of their lives for his fictional purposes. What do you think of that?
Did Mozart's Last Aria enhance your knowledge of classical music and make you want to listen to it more?