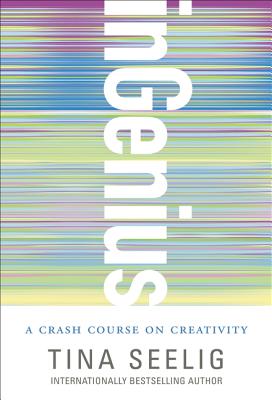 inGenius
A Crash Course on Creativity
Paperback

* Individual store prices may vary.
Description
Imaginative. Innovative. Ingenious. These words describe the visionaries we all respect and admire. And they can describe you, too. Contrary to common belief, creativity is not a gift some of us are born with. It is a skill that all of us can learn. International bestselling author and award-winning Stanford University educator Tina Seelig has worked with some of the business world's best and brightest, who are now among the decision-makers at companies such as Google, Genentech, IBM, and Cisco. In inGenius she expertly demystifies creativity, offering a set of tools and guidelines that anyone can use. A fantastic resource for everyone wanting to achieve their ambitions, and for readers of Jason Fried's Rework, and Seth Godin's Poke the Box.

Praise For inGenius: A Crash Course on Creativity…
"Tina invites us inside her Stanford University course to reveal that we all have creative potential waiting to be unleashed." — Ori Brafman, coauthor of Sway and Click
"In a world that's in constant flux, creativity and innovation are essential qualities for successful executives and industry-leading companies. Tina has shown that we all have the ability to mobilize our creative spirit." — Chip Conley, Founder of Joie de Vivre Hospitality and Author of Emotional Equations
"Who said creativity can't be taught? It can, and Tina Seelig has done it! She has created a new model, the Innovation Engine, that will change the way you think." — Steve Blank, entreprenuer and author of The Startup Owners Manual
In this groundbreaking work, Tina has codified her years of teaching at Stanford and proves that anyone can be creative. — Nancy Duarte, CEO and author of Resonate
Tina has shattered the misconception that you can't increase creativity. In this book, she presents breakthrough ideas on how to understand and boost your ability to innovate. — Guy Kawasaki, author of Enchantment and former chief evangelist of Apple
Tina Seelig has written a provocative field guide to 21st century creativity, with her energy and enthusiasm bursting through on every page. We all could use a little extra spark of creativity, and this book helps show the way. — Tom Kelley, author of The Art of Innovation
"Few people have done as much to champion innovative thinking as Tina Seelig." — David Kelley, Founder IDEO
"Tina Seelig is one of the most creative and inspiring teachers at Stanford." — Robert Sutton, Stanford University Professor and author The No-Asshole Rule
"Tina is the most inspirational creativity voice I know." — Geoffrey Moore, Author, Crossing the Chasm, Dealing with Darwin
"Seelig is a sharp observer and a gentle and thoughtful writer." — Miami Herald
"Tina Seelig has written a powerful and practical book, jam packed with keen insights for unleashing creativity in yourself and others." — Peter Sims, author of Little Bets: How Breakthrough Ideas Emerge from Small Discoveries
"inGenius is a fascinating blueprint for any company that's serious about creating an environment where new ideas can thrive, and many of Seelig's students doubtless go on to do precisely that." — Fortune Magazine
Seelig demonstrates that creativity and experimentation are both personal mindsets and values in organizations. inGenius acts as a spark plug for managers and entrepreneurs who want to capitalize on the creativity in their organizations. — Library Journal
"Many of us believe that we're either born with creativity or we're not. Tina Seelig, author of inGENIUS: A Crash Course on Creativity, and award-winning educator at Stanford University, says that's wrong: Creativity can be easily taught and learned." — USA Weekend
HarperOne, 9780062020710, 224pp.
Publication Date: April 7, 2015
About the Author
Tina Seelig earned her Ph.D. in neuroscience from Stanford University Medical School and is Professor of the Practice in the Department of Management Science and Engineering at Stanford's School of Engineering and executive director of the Stanford Technology Ventures Program. She is the international bestselling author of What I Wish I Knew When I Was 20 and inGenius: A Crash Course on Creativity. In 2009, Seelig was awarded the prestigious Gordon Prize from the National Academy of Engineering for her pioneering work in engineering education. Follow her on Twitter at @tseelig.