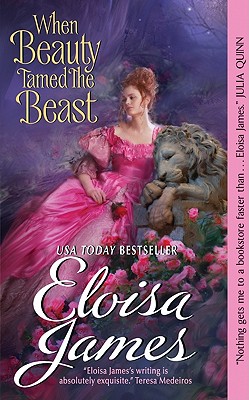 When Beauty Tamed the Beast (Fairy Tales #2)
Mass Market

* Individual store prices may vary.
Description
"Eloisa James's writing is absolutely exquisite."
—New York Times bestselling author Teresa Medeiros
"Nothing gets me to a bookstore faster than a new novel by Eloisa James."
—New York Times bestselling author Julia Quinn
A wonderful spin on a much-beloved fairy tale, New York Times bestselling author Eloisa James's When Beauty Tamed the Beast is heart-soaring and fun historical romance at its finest.
Miss Linnet Berry Thrynne is a Beauty . . . Naturally, she's betrothed to a Beast.
Piers Yelverton, Earl of Marchant, lives in a castle in Wales where, it is rumored, his bad temper flays everyone he crosses. And rumor also has it that a wound has left the earl immune to the charms of any woman.
Linnet is not just any woman.
She is more than merely lovely: her wit and charm brought a prince to his knees. She estimates the earl will fall madly in love—in just two weeks.
Yet Linnet has no idea of the danger posed to her own heart by a man who may never love her in return.
If she decides to be very wicked indeed . . . what price will she pay for taming his wild heart?
Avon, 9780062021274, 384pp.
Publication Date: January 25, 2011
About the Author
Eloisa James is a USA Today and New York Times bestselling author and professor of English literature, who lives with her family in New York, but can sometimes be found in Paris or Italy. She is the mother of two and, in a particularly delicious irony for a romance writer, is married to a genuine Italian knight. Visit her at www.eloisajames.com.
Book Videos
At the beginning of When Beauty Tames the Beast, neither Linnet nor Piers is strictly truthful with each other. That's not exactly abnormal—I had my future husband convinced that I was sweet, supportive, and a fabulous cook (I learned a lot from watching soaps). But Linnet and Piers are telling lies that aren't exactly flattering: Linnet is claiming to be pregnant, and Piers is boasting of impotence. First, agree among yourselves that I did a clever job of shifting the whole question of superficial beauty to deeper questions of the body. Then have another drink and get down to brass tacks: so, who has had a run-in with an impotent man? All details welcome.
This novel goes in a lot of different directions. If I had to nail down two things that were absolutely essential to the hero and heroine actually surviving marriage together, it would be that Piers had to reconcile with his father, and Linnet had to understand that Piers loved her for more than her beauty. Neither of these lessons was easily learned. I'm not sure what question to ask here, but if anyone wants to talk about how parents can mess up a good marriage, feel free to leap in.
Linnet is the heroine of a fairy tale—so naturally she's as beautiful as the sun and the moon. She doesn't find it all that easy. In fact, she doesn't have any female friends, and the moment she's suspected of being unchaste, the ton turns on her as if she were a smoker lighting up in church. Do you know anyone who's that beautiful? What happened to them? (This is a cue to let the conversation wander where it will…here's my final question: Are you sure there wasn't a nose job involved??).
or
Not Currently Available for Direct Purchase