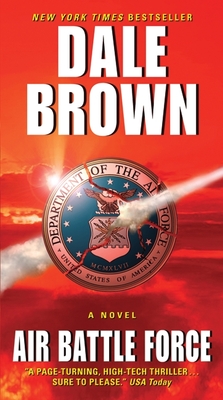 Air Battle Force (Paperback)
Harper, 9780062021830, 608pp.
Publication Date: March 29, 2011
* Individual store prices may vary.
Description
In military circles it's known as Air Battle Force—an air combat unit of the future, under the command of aerial warfare expert Major General Patrick McLanahan, capable of launching stealthy, precision-guided firepower to anywhere on the globe within hours. And now McLanahan and his warriors have their first target.
Driven from Afghanistan, the parasitic forces of the deposed Taliban regime have decided to feed on a new host—an isolated, oil-rich Central Asian neighbor that's ripe for the conquering. The battle for control of the world's largest oil deposits has begun, with unsteady alliances forming and opposing forces set to collide. And now a handful of American commandos half a world away, aided by McLan-ahan's unproven robotic warplanes, will have to triumph against overwhelming numbers in a war that nobody—including "friendly" forces at home—wants them to win.
About the Author
Former U.S. Air Force captain Dale Brown is the superstar author of 26 best-selling action-adventure "techno-thriller" novels: FLIGHT OF THE OLD DOG (1987), SILVER TOWER (1988), DAY OF THE CHEETAH (1989), HAMMERHEADS (1990), SKY MASTERS (1991), NIGHT OF THE HAWK (1992), CHAINS OF COMMAND (1993), STORMING HEAVEN (1994), SHADOWS OF STEEL (1996), FATAL TERRAIN (1997), THE TIN MAN (1998), BATTLE BORN, (1999), WARRIOR CLASS (2001), WINGS OF FIRE (2002), AIR BATTLE FORCE (2003), PLAN OF ATTACK (2004), ACT OF WAR (2005), EDGE OF BATTLE (2006), STRIKE FORCE (2007), SHADOW COMMAND (2008), ROGUE FORCES (2009), EXECUTIVE INTENT (2010), A TIME FOR PATRIOTS (2011), TIGER'S CLAW (2012), STARFIRE (2014), and IRON WOLF (2015). He is also the co-author of the best-selling DREAMLAND techno-thriller series and writer and the PUPPET MASTER series, and is a technical consultant of the Act of War PC real-time strategy game published by Atari Interactive, and the Megafortress PC flight simulator by Three-Sixty Pacific. Dale's novels are published in 11 languages and distributed to over 70 countries. Worldwide sales of his novels, audiobooks, e-books, and computer games exceed 15 million copies.
or
Not Currently Available for Direct Purchase