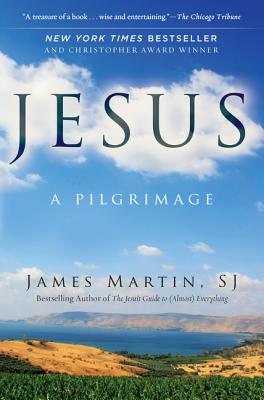 Jesus
A Pilgrimage
Paperback

* Individual store prices may vary.
Other Editions of This Title:
Digital Audiobook (3/10/2014)
Hardcover (3/11/2014)
Description
NEW YORK TIMES BESTSELLER. WINNER OF THE 2015 CATHOLIC PRESS ASSOCIATION BOOK AWARD.
"James Martin's riveting new meditation on Jesus is one of the best books I've read in years—on any subject."  — Mary Karr, author of Lit
James Martin, SJ, gifted storyteller and New York Times bestselling author of The Jesuit Guide to (Almost) Everything, brings the Gospels to life and invites believers and seekers alike to experience Jesus through Scripture, prayer, and travel.
Father Martin ushers you into Jesus' life and times and shows us how Jesus speaks to us today through combining fascinating insights of historical Jesus studies with profound spiritual insights about the Christ of faith, recreating the world of first-century Galilee and Judea.
Martin also brings together the most up-to-date Scripture scholarship, wise spiritual reflections, and lighthearted stories about traveling through the Holy Land with a fellow (and funny) Jesuit, visiting important sites in the life of Jesus of Nazareth.
Stories about Jesus' astonishing life and ministry—clever parables that upended everyone's expectations, incredible healings that convinced even skeptics, nature miracles that dazzled the dumbstruck disciples—can seem far removed from our own daily lives but in Jesus you will come to know him as Father Martin knows him: Messiah and Savior, as well as friend and brother.
Praise For Jesus: A Pilgrimage…
"James Martin's riveting new meditation on Jesus is one of the best books I've read in years—on any subject. Jesus is a love letter to the first-century Jewish radical Martin has devoted his life to following. Bravo, Father Martin, for writing a must-read."
— Mary Karr, author of Lit

"Do we really need yet another book about Jesus? If the book is this one, the answer is yes, we do. Jim Martin's approach to a well picked–over subject is unique and original, and it will net the reader a glimpse into the Nazarene not available elsewhere."
— Harvey Cox,, Hollis Research Professor of Divinity, Harvard Divinity School

"Fr. James Martin, S.J. is refreshingly innovative in his Jesus: A Pilgrimage. He has a knack for giving a new perspective to the familiar, making the reader exclaim, 'Ah, yes!' A superb gift."
— Archbishop Desmond Tutu

"One of the best religion writers today, Fr. Martin has produced a remarkable combination of modern scholarship on the Gospels, his experiences on a pilgrimage to the Holy Land, his own creative imagination and sense of humor, and wise advice pertaining to Christian life."
— Daniel J. Harrington, S.J., Professor of New Testament, Boston College School of Theology and Ministry, editor of New Testament Abstracts

"Martin communicates a joyful faith in God's healing and the ultimate hope offered by the Resurrection. Throughout, vivid details of his search in blistering heat for holy sites both authentic and dubious anchor this complex, compelling spiritual testimony."
— Publishers Weekly, Starred Review

"What can be said about Jesus that's never been said before? Martin helps answer that question through an insightful, balanced, intelligent, widely-embracing, and faith-filled account of his own journey in search of Jesus. A book for everyone, regardless of creed or background. James Martin at his best!"
— Ronald Rolheiser, OMI, author of The Holy Longing

"This is a sensitive, hearfelt inquiry into the person of Jesus. James Martin encounters Jesus again and again on a pilgrimage through Israel. In his book the great texts of the Gospels come to live and are transformed for the reader into an encounter with Jesus as he really was."
— Rev. Gerhard Lohfink, author of Jesus of Nazareth

"James Martin does something remarkable in this book. He invites you to accompany him on a pilgrimage through the Holy Land. New Testament scholarship opens up the life of Jesus so that the Gospels can speak to each of us personally and transform us as they did their first hearers."
— John W. Martens, PhD, Associate Professor of Theology, University of St. Thomas, St. Paul, Minnesota

"Jim Martin's book on Jesus is a gem. Learned yet highly accessible, he weaves together a number of insights gleaned from the Gospels, a recent pilgrimage to the Holy Land, Ignatian spirituality, and his personal and pastoral experience. This is a Jesus book I highly recommend."
— Thomas D. Stegman, S.J., Associate Professor of New Testament, Boston College School of Theology and Ministry

"James Martin has a gift for captivating both the reader's head and heart. What a joy to take this personal and fascinating pilgrimage with Fr. Martin, one that leads to a refreshing awareness and understanding of the beloved Carpenter from Nazareth. This book not only informs, it inspires."
— Joyce Rupp, author of Praying Our Goodbyes and Open the Door: A Journey to the True Self

"Father Martin calls archeologists and exegetes to witness in his narrative. He bares his own life experiences. It's all at the service of the greater story—the greatest ever told. If I have the privilege of visiting the Holy Land again, I will see it differently because I've read this book."
— Scott Hahn, Professor of Theology and Scripture at Franciscan University in Steubenville, Ohio, author of Understanding Scripture

"It isn't often that a book invites you to make a journey through the Holy Land in the company of an inspiring, well–informed and entertaining guide like James Martin. Enjoy the journey, but don't be surprised if it changes you."
— Margaret Silf, author of Inner Compass and Simple Faith

"Martin offers a very personal meditative memoir, but one informed by critical biblical and archaeological scholarship and graced with his accustomed narrative skill. His entertaining, thoughtful, and inspiring account will delight both seasoned pilgrims and those who want to be."
— Harold W. Attridge, Sterling Professor of Divinity and emeritus dean, Yale Divinity School

"Whether encountering Jesus for the first time, or wanting to know him better, you'll find a wonderful guide in Fr. Martin. He takes us on his tour of the Holy Land, treading in the footsteps of Jesus. More than a travelogue or commentary on scripture—it's a life-transforming pilgrimage."
— Robert Ellsberg, editor of The Duty of Delight: The Diaries of Dorothy Day

"Fr. James Martin, chaplain to the Colbert nation, uses the geography of the Holy Land to map out the separate plots of earth called historical Jesus, christology, and personal (as well as ecclesial) spirituality. Every reader will enjoy the journey through this triple territory with such an insightful companion."
— Professor John P. Meier, William K. Warren Professor of Theology at the University of Notre Dame

"In this inspiring medley of travelogue, academically informed Bible study, and pilgrimage, Martin resurrects an ancient Christian form of spirituality and serves as a trustworthy guide through the life of Jesus. Jesus is a must-read for those who want their Bible brought to life with accuracy, sincerity, and sparkle."
— Candida Moss, Professor of New Testament and Early Christianity, University of Notre Dame

"Want a pilgrimage to the Holy Land with a reliable guide? Open these pages and travel with Fr. Jim Martin. He's at his best here, opening the Gospel mysteries, but with a light touch. Serious scholar, yes—but mostly a pilgrim believer trying to make his way, just like us."
— Sister Helen Prejean, CSJ, author of Dead Man Walking

"This delightful book combines personal reflections, spiritual nuggets, insights from top biblical scholars, theologians, and archaeologists, in a folksy and engaging style. As Martin shares his pilgrimage, he makes Jesus and his land and times come alive, inviting others to meet Jesus and embark on their own pilgrimage."
— Barbara E. Reid, O.P., Professor of New Testament and Vice President and Academic Dean, Catholic Theological Union, Chicago

"Written in clear, accessible prose and laced with the author's trademark good cheer, this is a deeply personal narrative. Read this book and be inspired to encounter Jesus in your own way, in the company of a spiritually insightful guide."
— Elizabeth A. Johnson, CSJ, Distinguished Professor, Fordham University

"Jesus is a delight to read and a work of substance for the committed Christian. Vividly written, and rich in historical detail and analysis, it's also a movingly personal journey of faith. This is a book that will linger in the reader's heart."
— Charles J. Chaput, O.F.M. Cap. Archbishop of Philadelphia

"This is an invaluable book for anyone desiring to know more about Jesus, and how his life can illumine our own spiritual pilgrimage. James Martin makes familiar Gospel stories fresh, and helps us see how in our ordinary lives we might better answer God's call to conversation and conversion."
— Kathleen Norris, author of The Cloister Walk

"Fr. Martin provides those who have stepped away from their faith, or who are not believers, the opportunity to better know who Jesus was. Whether you are one of Jesus' most fervent disciples or a questioning observer, this book will help you understand Jesus is our brother and friend forever."
— Cardinal Sean O'Malley, archbishop of Boston

"The book is solidly based in contemporary Jesus studies but its charm lies in the insight a fellow Christian has gleaned into the God-man of the Gospels through his own personal and deepening relationship with Jesus."
— Sandra M. Schneiders, Jesuit School of Theology, Santa Clara University

"A consideration of Christ, human and divine, from an on-native-ground perspective…. An intelligent, lively travelogue…and a welcome complement to a direct reading of the Gospels."
— Kirkus Reviews

"James Martin's witty account of his pilgrimage in the Holy Land gives one an acute sense of how wonderful it is that God has walked in our land and shared our lives. It touches our imagination and ignites it anew."
— Timothy Radcliffe, OP, former Master General of the Dominican Order

"Highly accessible, inviting-even magnetic-and meant to be read by those who have always wanted a companion, a mentor, and an understanding friend to accompany them. A profound book."
— Joan Chittister, OSB, author of Called to Question

"Part travelogue, part memoir and part very Martinesque - that is, funny, conversational and deep."
— Washington Post

"About halfway through the Gospel of Mark, Jesus asks... 'Who do you think I am?' In his new book, Jesus: A Pilgrimage, Jesuit priest, Jim Martin, searches for an answer and his answer just might surprise you."
— Huffington Post

"Mixed with theology, history, tradition, and Fr. Martin's wisdom and wit, we put ourselves in the exact moment and location of Jesus and try and picture what it must have been like for both Jesus and those around Him."
— Stuart's Study Blog

"The more personal and the more subjective and even the more chatty the account of this pilgrimage becomes, the closer we draw, even without realizing it, to its divine-human subject."
— Peter Milward, SJ, St. Austin's Review

"The blend of distilled scholarship and narrative is infectious. Travelogue, spirituality and theological reflection combine with wit and human insight."
— The Tablet

"[Jesus] blends Bible study, spiritual reflection, personal memoir and travel writing in a way that (mercifully) differs from the classically dull, dry volumes on the life of Christ."
— Busted Halo

An inspirational memoir that stands as a fresh perspective on Jesus with Martin's own travel narrative and a Bible study that is scholarly and inspirational, this book is perfectly pitched for general readers with his fluid, magazine-style prose- definitely a "mash-up" of styles, but Martin makes it work!
— ReadTheSpirit

A treasure...a wise and entertaining book that should appeal to the spiritual pilgrim in all of us, no matter what the faith and no matter whether believer or nonbeliever.
— Chicago Tribune

"Jesus: A Pilgrimage is the Jesus book for smart people who are seeking to understand the singular person of Jesus of Nazareth through the illuminated lens of Father Martin's intelligent, funny, prayerful and profound faith."
— Paul Raushenbush, Executive Religion Editor for The Huffington Post

"I'm beginning to feel that [Jesus: A Pilgrimage] might be a 'must have' for Christians who want a more rounded, personal experience of Christ. Or for those who don't understand the "Christian thing" and would like some general context of their own."
— Happy Catholic Blog

"Part travelog, part biblical commentary, part memoir, part meditation … This will appeal to readers (not just Catholics) seeking an introduction to the Gospels that is personal but rooted in serious scholarship."
— Library Journal

"It takes a 'human one' to write well about the consummate 'Human One,' Jesus. And James Martin does that very well! Come to see, and be seen by, the one who has loved so many of us into life."
— Richard Rohr, O.F.M., Center for Action and Contemplation, Alubuquerque, NM, author of Everything Belongs

"Martin draws on solid scholarship and also on his own experience, along with an accessible and attractive style, all of which makes this book an attractive and substantial spiritual reading."
— The Bible Today

"Outstanding...[Martin is] a masterful teacher and story teller."
— Our Sunday Visitor

"Remarkable...fascinating... Martin interweaves scholarship into a popular-level narrative which will at once introduce many readers to their work and at the same time challenge readers to understand the Gospel narratives in new ways."
— Catholic News Service

"Combining memoir, theology and history, Father Martin recounts how his sense of place in the churches and holy sites he visits illuminates his Sense of Place as a follower of Jesus. His honest, sensitive reading of Scripture through the lens of intelligence and faithfulness left me feeling joyful."
— First for Women

"My highest recommendation...Just read this book and you will understand more about the times in which Jesus lived-and more about what the Gospel stories mean-than you could ever imagine."
— The Leaven
HarperOne, 9780062024244, 560pp.
Publication Date: February 2, 2016
About the Author
Rev. James Martin, SJ, is a Jesuit priest, editor at large of America magazine, consultor to the Vatican's Dicastery for Communication, and author of numerous books, including the New York Times bestsellers Jesus: A Pilgrimage, The Jesuit Guide to (Almost) Everything and My Life with the Saints, which Publishers Weekly named one of the best books of 2006. Father Martin is a frequent commentator in the national and international media, having appeared on all the major networks, and in such diverse outlets as The Colbert Report, NPR's Fresh Air, the New York Times and The Wall Street Journal.  Before entering the Jesuits in 1988 he graduated from the Wharton School of Business.