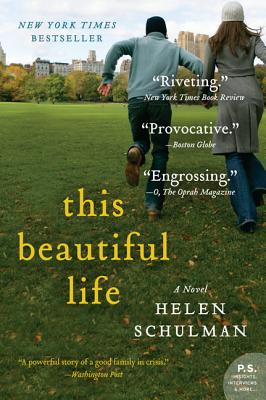 This Beautiful Life
A Novel
Paperback

* Individual store prices may vary.
Other Editions of This Title:
Digital Audiobook (8/1/2011)
Hardcover, Large Print (1/4/2012)
Hardcover (8/1/2011)
MP3 CD (8/2/2011)
Compact Disc (8/2/2011)
Compact Disc (8/2/2011)
Audio Cassette (8/1/2011)
Paperback (2/1/2012)
Description
"
ThisBeautiful Life
is a gripping, potent and blisteringly well-written story offamily, dilemma, and consequence. . . . I read this book with white-knuckledurgency, and I finished it in tears. Helen Schulman is an absolutely brilliantnovelist." —Elizabeth Gilbert, author of
Eat, Pray, Love
Theevents of a single night shatter one family's sense of security and identity inthis provocative and deeply affecting domestic drama from Helen Schulman, theacclaimed author of A Day at the Beach and Out of Time. In thetradition of Lionel Shriver, Sue Miller, and Laura Moriarty, Schulman crafts abrilliantly observed portrait of parenting and modern life, cunningly exploringour most deeply-held convictions and revealing the enduring strengths thatemerge in the face of crisis.
Praise For This Beautiful Life: A Novel…
"Riveting. . . . As much as this book fiercely inhabits our shared online reality, it operates most powerfully on a deeper level, posing an enduring question about American values."
— Maria Russo, New York Times Book Review

"This Beautiful Life is as much a bracing novel as a timely cautionary tale…. Schulman has managed to capture this bizarre of-the-moment tragedy in a novel that remains deeply humane and sensitive…. This Beautiful Life is a powerful story of a good family in crisis."
— Mary McGarry Morris, Washington Post

"Schulman's topical, unsettling new novel [is] set in Manhattan's world of private-school privilege but chillingly relatable for parents anywhere…. Raising tough questions about child rearing, morality and the way the Internet both frees and imprisons, Schulman's story resonates."
— People (3 ½ out of 4 stars)

"A rich, engrossing, and surprisingly nuanced novel exploring timeless questions of guilt and responsiblity."
— O, The Oprah Magazine

"This Beautiful Life isn't just an intimate look at family breaking down under intense pressure; it's also a sharp and unsparing indictment of a culture in search of scapegoats. In this timely and provocative novel, Helen Schulman maps out the contours of a contemporary American nightmare."
— Tom Perrotta, author of The Leftovers and Little Children

"A gripping, potent, and blisteringly well-written story of family, dilemma, and consequence. While the setting is thoroughly modern, the drama feels as ancient and inevitable as a Greek myth. I read this book with white-knuckled urgency, and finished it in tears. Helen Schulman is an absolutely brilliant novelist."
— Elizabeth Gilbert, author of Committed and Eat, Pray, Love

"In the hands of a lesser writer, this might have been simply a book about a scandal; Helen Schulman, though, has a long enough view, and a large enough heart, to have found in that scandal's outlines a mournful and affecting portrait of our brave new social world."
— Jonathan Dee, Author of The Privileges

"Helen Schulman's trenchant social observations and precise, lucid writing are brought to bear on the timely story of a crisis in the life of the Bergamot family…. Schulman takes on a controversial topic with depth, evenhandedness, and warmth. Spare and focused, This Beautiful Life packs a wallop."
— Kate Christensen, author of The Epicure's Lament and The Great Man

"In another writer's hands, it might come out as a cautionary tale, but Schulman is careful not to paint anyone as villain or victim."
— Hannah Gerson, New York Observer

"A harrowing and moving account of just how much twenty-first-century technology has magnified the scope of the kind of imbecilities in which teenagers excel. It's poignant about the fragility of even those homes that are seemingly invulnerably insulated by privilege and caring and vigilant parents."
— Jim Shepard, author of Like You'd Understand, Anyway

"With psychological acuity and cinematic pacing, Helen Schulman takes a hypercontemporary nightmare…and parlays it into a wildly compelling novel about parenting, privilege, and the fragility of happiness…. This Beautiful Life is moving, disturbing, and grandly incisive."
— Jonathan Miles, author of Dear American Airlines

"Helen Schulman is one of the most gifted writers of her generation."
— Jennifer Egan, author of A Visit from the Good Squad
Harper Perennial, 9780062024398, 256pp.
Publication Date: February 7, 2012
About the Author
Helen Schulman writes fiction, nonfiction, and screenplays. Her last novel, This Beautiful Life, was a New York Times bestseller. She is a Professor of Writing and Fiction Chair at the MFA program at The New School. She lives in New York City with her family.
What are your impressions of the Bergamot family? How do Liz and Richard's backgrounds influence how they view the good fortune of their lives?
Do you think Liz and Richard are good parents? Liz believes she's not better or worse than other mothers. Do you agree with her? What makes a good parent? Does she love her son "too much"—"crippling in its way" as she calls it? Explain what she means.
At the beginning of the novel, Liz and Coco are at the Plaza for a sleepover. How do the events at the sleepover and Liz's observations about the soon-to-close hotel foreshadow what follows?
What was the Bergamot family's life like before they moved to New York City? Might the same situation have occurred if they had remained in Ithaca? How much does the urban milieu—and the moneyed world they are a part of—influence the behaviors of both parents and students, especially the Bergamots?
When it comes to girls and sex, Jake is a typically confused teen. "His Mom was always saying don't take advantage of a girl, but what if a girl wanted to be taken advantage of?" How would you answer him?
Why does Jake forward the video Daisy sends him? How do his peers react when it goes viral? How did they view Daisy and Jake? What about the other parents? Is there a clear-cut villain and victim?
Compare the two girls at the center of Jake's consciousness, Audrey and Daisy. What do you think the future holds for them? What have they learned from the events that pass? What about Jake? And what about his precocious and popular five-year-old sister, Coco?
In the midst of the crisis, Jake is reading The Great Gatsby for school. How do the themes of F. Scott Fitzgerald's novel reverberate in This Beautiful Life? What does Jake take away from reading the novel in light of his own situation?
Think about the Bergamot's reaction to the scandal. Do you agree with their actions? Could they have made different choices? What might you do if your child was either Daisy or Jake? What is the proper punishment for their behaviors? How much of Richard's reaction is related to concern over his job and career?
Early in the novel, Liz reveals her feelings about home and family. "It was what Liz always hungered after despite generations of contrary evidence: Relatives as respite, home as haven, a retreat from the rest of the dangerous, damaging world." How does the shelter of family and home crumble after Jake's indiscretion? Could the damage have been prevented?
How did the event change how Liz and Richard see themselves and each other? Are they both responsible for what follows? Why can't Liz maintain their "beautiful life" anymore?
While the events in This Beautiful Life are fictional, similar cases have made headlines around the country. What does the novel say about our society? How has the Internet affected our behavior, especially that of adolescents? The author sets the book in 2003; how might the outcome have been different had the narrative taken place a decade later?
What are your thoughts on the novel's ending?