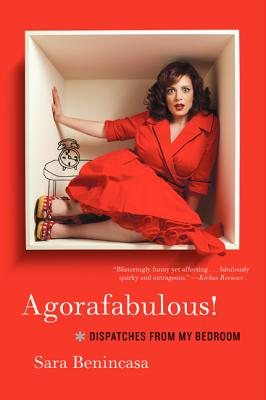 Agorafabulous!
Dispatches from My Bedroom
Paperback

* Individual store prices may vary.
Other Editions of This Title:
MP3 CD (5/31/2016)
Description
"Sara Benincasa is one of the funniest writers I know—and I know a disturbing number of them. She is also one of the most honest."
—Sam Apple, author of American Parent and editor-in-chief of The Faster Times
"Sara is extremely funny and should have many books out so we can all read them and laugh."
—Margaret Cho
Comedian, writer, blogger, radio and podcast host, and YouTube sensation, Sara Benincasa bravely and outrageously brings us "Dispatches from My Bedroom" with Agorafabulous! One of the funniest and most poignant books ever written about a mental illness, Agorafabulous! is a hilarious, raw, and unforgettable account of how a terrified young woman, literally trapped by her own imagination, evolved into a (relatively) high-functioning professional smartass. Down to earth and seriously funny, Benincasa's no-holds-barred revelations offer readers the politically incorrect hilarity they heartily crave, yet is so often missing from your typical, weepy, and redemptive personal memoir.

Praise For Agorafabulous!: Dispatches from My Bedroom…
"Sara Benincasa's comedy is uplifting, deeply personal, and very funny. As difficult as her agoraphobia is to manage, she's pulled through it—beautifully. Agorafabulous! manages to make you laugh even as she's peeing into cereal bowls and hiding them under her bed." — Rob Delaney
"Agorafabulous! is laugh-out loud funny, even as it's taking on deadly serious issues." — Feministing.com
"Funny and unflinchingly honest…. Benincasa discovers her gift for comedy and storytelling, and finds tranquility." — Publishers Weekly
"A blisteringly funny yet affecting debut memoir about a young woman's struggle to overcome panic disorder and agoraphobia. Comedian Benincasa recounts her adolescent devolution into a 'full-on, obsessive, cowering, trembling agoraphobe' [who] discover[s], by accident, the healing power of stand-up comedy. Fabulously quirky and outrageous." — Kirkus Reviews
"Hilarious. . . . With expert pacing, the stand-up comic mixes humor and poignant anecdotes from her teen, college, and young adult life. As her empowering tale makes clear, she survives and thrives (with a little help from family, friends, and Prozac)." — Booklist
"Sara's story of overcoming a debilitating fear is told with such honesty and hilarity that all I want to do now is hang out with her in a tiny room and not let her leave until she tells me more stories." — Sarah Colonna, author of Life as I Blow It
"If I ever get thrown in a mental institution, my only hope would be having Sara as a cellmate. Her funny and poignant perspective makes Agorafabulous! a stellar debut." — Julie Klam, author of You Had Me at Woof
"Sara's comedy is uplifting, deeply personal, and very funny. As difficult as her agoraphobia is to manage, she's pulled through it beautifully. Agorafabulous! manages to make you laugh even as she's peeing into cereal bowls and hiding them under her bed." — Rob Delaney, comedian and columnist, Vice magazine
"With storytelling that is hilarious, honest, raw, and absurd, Agorafabulous! puts you in the body and mind of an extraordinary individual who accepts and embraces her full self." — Baratunde Thurston, author of How to Be Black
"Sara's blunt and quirkily humorous take on the crippling anxiety that held her hostage in her own home will have you laughing out loud one minute and wanting to hug her the next." — Kambri Crews, author of Burn Down the Ground: A Memoir
"The abridged list of things Sara Benincasa has been afraid of includes leaving her home, having a wet head, driving…and sex. But her memoir…dissects all of these fears with so much verve and humor, you'll be amazed at how much fun it can be to read about such difficult circumstances." — Bust Magazine
"Benincasa informs and entertains while relaying this story about mental illness. Without glossing over the seriousness of her ordeal, she mines it for laughter, which, someone once said, is the best medicine." — Penthouse
"Often poignant and always funny…. [Sara Benincasa's] matter–of–fact, unselfconscious delivery allows readers to be entertained without having to feel guilty about it; further, it may just inspire them to make a few changes of their own. [A] story of triumph over adversity…you'll be better for having read it." — Examiner.com
William Morrow Paperbacks, 9780062024428, 272pp.
Publication Date: April 9, 2013
About the Author
Sara Benincasa is a comedian and author of Real Artists Have Day Jobs (William Morrow 2016) as well as the books DC Trip (Adaptive Books 2015), Great (2014), and Agorafabulous!: Dispatches From My Bedroom (William Morrow 2012), a book based on her critically acclaimed solo show about panic attacks and agoraphobia. She is currently adapting DC Trip as a film with producers Albert Berger and Ron Yerxa (Little Miss Sunshine, Nebraska, Election), Van Toffler, and Adaptive Studios. She is currently adapting Agorafabulous! as a TV pilot with executive producers Diablo Cody (Juno, The United States of Tara), and Ben Stiller's Red Hour. She was born and raised in New Jersey and graduated from Warren Wilson College and Columbia University Teachers College. She lives in Los Angeles, California.