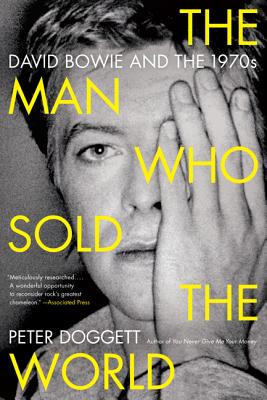 The Man Who Sold the World (Paperback)
David Bowie and the 1970s
Harper Perennial, 9780062024664, 512pp.
Publication Date: August 13, 2013
Other Editions of This Title:
Hardcover (7/31/2012)
Hardcover (11/1/2011)
Paperback (9/1/2011)
* Individual store prices may vary.
Description
"Astonishing and absorbing…from glam rock, minimalism and punk, to radical left-wing politics, music video, and a mass of other subjects that helped shape the ideas behind Bowie's songs."
—Sunday Times (London)
 
The Man Who Sold the World by Peter Doggett—author of the critically acclaimed Beatles biography, You Never Give Me Your Money—is a song-by-song chronicle of the evolution of David Bowie. Focusing on the work and the life of one of the most groundbreaking figures in music and popular culture during the turbulent seventies, Bowie's most productive and innovative period, The Man Who Sold the World is the book that serious rock music lovers have been waiting for. By exploring Bowie's individual achievements and breakthroughs one-by-one, Doggett paints a fascinating portrait of the performer who paved the way for a host of fearless contemporary artists, from Radiohead to Lady Gaga.

About the Author
Peter Doggett's books include Are You Ready for the Country: Elvis, Dylan, Parsons and the Roots of Country Rock,the award-winning There's a Riot Going On: Revolutionaries, Rock Stars and the Rise and Fall of the '60s, and You Never Give Me Your Money: The Beatles After the Breakup, which was chosen as one of the 10 Best Books of 2010 by the Los Angeles Times.
Praise For The Man Who Sold the World: David Bowie and the 1970s…
"Meticulously researched….A wonderful opportunity to reconsider rock's greatest chameleon."
— Lisa Ko, author of The Leavers

"Packed with insight, a go-to text for anyone who wants to understanding what Doggett calls 'the uncanny strangeness of the seventies Bowie,' and the creative process that led to his artistic breakthroughs."
— San Francisco Chronicle

"Explores themes in Bowie's most inventive period - from sexual identity to the nature of fame. Doggett's song-by-song analysis will make obsessive fans of the 'Ziggy Stardust' days want to pull out their old vinyl."
— USA Today

"Details a decade of styles and influences of one of rock's most enigmatic personalities….A complete treat."
— Library Journal

"Meticulous….A captivating look at an artist who defined an era."
— Publishers Weekly

"A thoughtful combination of critical observation and biographical digging….Doggett's sparkling work of biocriticism is full of entertaining anecdotes and flashes of insight."
— Booklist (starred review)

"Astonishing and absorbing…Expertly unpicks this explosively creative time in Bowie's life…. [Doggett intercuts] the individually tailored song biographies with essays on everything from glam rock, minimalism and punk, to radical left-wing politics, music video and a mass of other subjects that helped shape the ideas behind Bowie's songs."
— Rob Fitzpatrick, Sunday Times (London)

"Doggett's previous book, You Never Give Me Your Money: the Battle for the Soul of the Beatles, was the perfect preparation for writing about both the Seventies and Bowie."
— Toby Litt, New Statesman

"There aren't many writers who have the combination of classic-rock knowledge, reverence for an artist and sheer patience to successfully pull off this sort of project."
— Kirkus Reviews