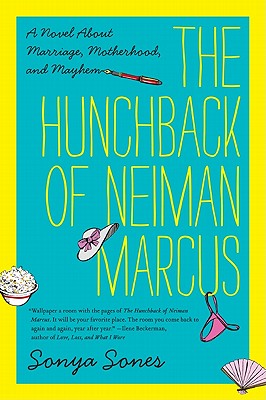 The Hunchback of Neiman Marcus (Paperback)
A Novel About Marriage, Motherhood, and Mayhem
Harper Perennial, 9780062024671, 432pp.
Publication Date: April 5, 2011
* Individual store prices may vary.
Description
"Funny, fresh, and heartbreakingly poignant, this book had me laughing and crying at the same time."
—Meg Cabot, author of The Princess Diaries series and Insatiable
"I read The Hunchback of Neiman Marcus and I saw the light and the mirror and fell under Sonya Sones' spell."
— Jacquelyn Mitchard, author of The Deep End of the Ocean
"Wallpaper a room with the pages of The Hunchback of Neiman Marcus. It will be your favorite place. The room you come back to again and again, year after year."
—Ilene Beckerman, author of Love, Loss, and What I Wore
Celebrated YA novelist Sonya Sones makes a HUGE splash with her first adult novel, The Hunchback of Neiman Marcus, spinning a funny, fierce, and piercingly honest coming-of-middle-age story about falling apart and putting yourself back together. Nora Ephron's I Feel Bad About My Neck meets Elizabeth Berg—boldly original and endlessly enthralling—The Hunchback of Neiman Marcus is a luminous, brilliantly told story of life, marriage, and parenthood that you will not soon forget.

About the Author
Sonya Sones has written seven novels in verse: The Opposite of Innocent, Stop Pretending: What Happened When My Big Sister Went Crazy; What My Mother Doesn't Know and its companion, What My Girlfriend Doesn't Know; One of Those Hideous Books Where the Mother Dies; To Be Perfectly Honest; and Saving Red. Sonya's books have received many honors, but she was especially thrilled when she learned that she was on the American Library Association's list of the Most Frequently Challenged Authors of the 21st Century. She lives near the beach in California. You can visit her at www.sonyasones.com or write her at sonyasones@gmail.com.
Praise For The Hunchback of Neiman Marcus: A Novel About Marriage, Motherhood, and Mayhem…
"[An] entertaining novel-in-verse that will have readers clamoring for more. Sones, a beloved and wildly popular YA novelist, brings poetry to life for readers, especially parents of teens and those coping with elder care, in this cleverly versified, insightful laughter-and-tears novel."
— Booklist

"Somewhere between Nora Ephron and Jennifer Weiner, Sones recounts the little ouches of aging with a perfect blend of wit and tenderness. . . . This is what chick lit should want to be when it grows up--wise, funny, and blunt."
— Library Journal

"Wallpaper a room with the pages of The Hunchback of Neiman Marcus. It will be your favorite place. The room you come back to again and again, year after year."
— Ilene Beckerman, author of Love, Loss, and What I Wore

"Funny, fresh, and heartbreakingly poignant, this book had me laughing and crying at the same time. Thank you, Sonya Sones, for finally saying what so many of us have been thinking for so long."
— Meg Cabot, author of The Princess Diaries series and Insatiable

"Every page of Sonya Sones's novel-in-verse is brimming with wit, warmth, and wisdom. You'll want to share this relatable and revelatory story about growing old 'disgracefully' with every mother and daughter you know."
— Megan McCafferty, author of the Jessica Darling series

"An achingly honest, brilliantly crafted examination of midlife. An absolute joy to read."
— Tish Cohen, author of The Truth About Delilah Blue and Inside Out Girl

"An elderly, ailing parent. A child about the fly the nest. Menopause. Tensions in a longtime marriage. . . . These are familiar midlife issues, but poetry's sharp focus enables Sones to keep them fresh . . . [as she] expertly juggles humor and pathos. . . . Marvelous."
— AARP

"If you told me I'd laugh and cry in the nail salon over a novel in VERSE . . . I'd have said that you were mad. Then I read The Hunchback of Neiman Marcus and I saw the light and fell under Sonya Sones' spell."
— Jacquelyn Mitchard, author of The Deep End of the Ocean