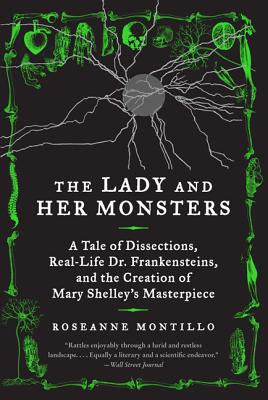 The Lady and Her Monsters (Paperback)
A Tale of Dissections, Real-Life Dr. Frankensteins, and the Creation of Mary Shelley's Masterpiece
William Morrow Paperbacks, 9780062025838, 336pp.
Publication Date: October 22, 2013
Other Editions of This Title:
Hardcover (2/5/2013)
* Individual store prices may vary.
Description
The Lady and Her Monsters by Roseanne Motillo brings to life the fascinating times, startling science, and real-life horrors behind Mary Shelley's gothic masterpiece, Frankenstein.
Montillo recounts how—at the intersection of the Romantic Age and the Industrial Revolution—Shelley's Victor Frankenstein was inspired by actual scientists of the period: curious and daring iconoclasts who were obsessed with the inner workings of the human body and how it might be reanimated after death.
With true-life tales of grave robbers, ghoulish experiments, and the ultimate in macabre research—human reanimation—The Lady and Her Monsters is a brilliant exploration of the creation of Frankenstein, Mary Shelley's horror classic.
About the Author
Roseanne Montillo holds an MFA from Emerson College in Massachusetts, where she teaches as a professor of literature. She is the author of The Lady and Her Monsters.
Praise For The Lady and Her Monsters: A Tale of Dissections, Real-Life Dr. Frankensteins, and the Creation of Mary Shelley's Masterpiece…
"Her narrative… rattles enjoyably through a lurid and restless landscape. … Equally a literary and a scientific endeavor."
— Wall Street Journal

"Montillo achieves a freshness through her lively narrative approach and a fascination with long-ago science and its ethics that sparks across the pages."
— New York Times Book Review

"Enthusiatic prose... A Spirited investigation of the bizarre times that inspired Mary Shelley's Frankenstein."
— Shelf Awareness (Starred Review)

"A delicious and enticing journey into the origins of a masterpiece."
— Publishers Weekly (starred review)

"With a flair for both drama and detail, Montillo breathes her own kind of life into the story of the men determined to discover its very elements."
— Discover Magazine

"Spills the dirt on the making of the 19th-century novel--affairs, family drama, a lake house with Lord Byron!--and paints a grimly fascinating picture of the dissections and experiments in "animal electricity" that inspired the gothic tale."
— Mental Floss

"Montillo's book is a welcome tribute to the literary, and especially the scientific, roots of the story."
— The Commercial Dispatch

"A welcome tribute to the literary, and especially the scientific, roots of the story."
— The Lady and Her Monsters

"Montillo never loses sight of the fact that it was Mary Shelley's imagination that sewed the pieces together - and provided the vital spark that keeps the tale alive nearly two centuries on."
— New Scientist

"A haunting picture of an era in which science and the arts overlapped, a perfect storm in which inspiration for "Frankenstein" could strike. Like a bolt of lightning."
— Washington Post