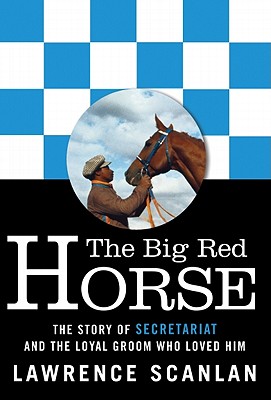 The Big Red Horse
The Story of Secretariat and the Loyal Groom Who Loved Him
Paperback

* Individual store prices may vary.
Description
The world of horse racing is brought to life by Larry Scanlan, following the career of Secretariat and looking at the relationship between the horse and his beloved groom. Scanlan introduces young readers to the hierarchy of the track, from the hot walker to the owner to Secretariat, the fastest horse of the twentieth century.
Secretariat was good - and he knew it. He didn't tolerate fools, and his groom knew just how to handle him, with lots of love and a firm hand. Eddie Sweat loved that horse, knew every muscle in his body, knew how to calm him down, and knew when to hold firm. He drove him to races and flew with him to his ultimate home, the stud farm. Following Secretariat from the time he was born to the time he died, Scanlan presents a fascinating and engaging look at the partnership of Secretariat and Eddie Sweat - and at the racing world in general, complete with fun trivia facts about Secretariat.
HarperCollins, 9780062026699, 176pp.
Publication Date: October 5, 2010
About the Author
LAWRENCE SCANLAN, based in Kingston, Ontario, workedwith Monty Roberts on his New York Times bestseller, The ManWho Listens to Horses, and he is the author of nine booksabout horses, including The Horse God Built: The Untold Storyof Secretariat, the World's Greatest Racehorse.