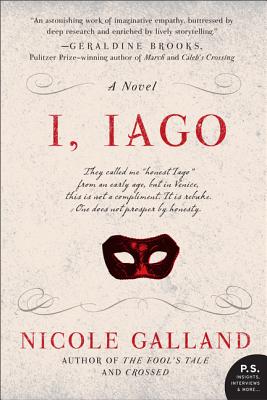 I, Iago (Paperback)
A Novel
William Morrow Paperbacks, 9780062026873, 400pp.
Publication Date: April 24, 2012
* Individual store prices may vary.
Description
"Nicole Galland is exceptionally well versed in the fine nuances of storytelling."
—St. Petersburg Times
"Galland has an exceptional gift."
—Neal Stephenson
The critically acclaimed author of The Fool's Tale, Nicole Galland now approaches William Shakespeare's classic drama of jealousy, betrayal, and murder from the opposite side. I, Iago is an ingenious, brilliantly crafted novel that allows one of literature's greatest villains--the deceitful schemer Iago, from the Bard's immortal tragedy, Othello--to take center stage in order to reveal his "true" motivations. This is Iago as you've never known him, his past and influences breathtakingly illuminated, in a fictional reexamination that explores the eternal question: is true evil the result of nature versus nurture...or something even more complicated?

About the Author
Nicole Galland's five previous novels are The Fool's Tale; Revenge of the Rose; Crossed; I, Iago, and Godiva. She writes a cheeky etiquette column for the Martha's Vineyard Times. She is married to actor Billy Meleady and owns Leuco, a dog of splendid qualities.
Praise For I, Iago: A Novel…
"[A] funny (really!) look at this disastrous Crusade through the eyes of a wacky Welshman, a pious knight and his half-brother and an Arab princess (who isn't what she seems) they hope to return to her Egyptian home. It's a raucous road trip set in the 13th century."
— New York Post

"A tasty fictional stew, mixing elements of twelfth-century culture together skillfully to produce a veritable reading feast . . . .The combination of vicious politics, mysterious doings, betrayals, and double-dealing, added to a leisurely but engaging plot, will keep those pages turning."
— Booklist

"A clever novel of courtly love . . . entertains with a flourish."
— Publishers Weekly

"[A]ttention to detail and humor keeps the novel both exhaustive and hilarious...Nicole Galland is exceptionally well versed in the fine nuances of storytelling and illustrating the combustible nature of mixing religion, commerce and war."
— St. Petersburg Times (Florida)

"[A]t once an idiot's guide to the tangled geopolitical landscape of 13th century and a clear and stern indictment of contemporary events...Thick with delectable historical details."
— Martha's Vineyard Times on CROSSED

"A wallop of a first novel—entertaining and engaging."
— San Francisco Chronicle on The Fool's Tale

" THE FOOL'S TALE creates a vivid 12th Century world and three unforgettable characters whose lives entwine with war and politics, and climax in an ending as haunting as it is powerful."
— William Dietrich, author of Hadrian's Wall

"An astonishing work of imaginative empathy, buttressed by deep research and enriched by lively storytelling."
— Geraldine Brooks, Pulitzer Prize-winning author

"This is a wonderful historical novel that proves that all people see themselves as the hero of their own lives."
— Peter Sagal, host of NPR's Wait Wait...Don't Tell Me!

"A convincing portrayal of a tormented, delusional man whose complacted web of deceit destroys everyone around him."
— Library Journal on I, IAGO

"The delights of this book, lushly set in Renaissance Venice, lie in Galland's ability to take a series of tiny mistakes, deceptions and wrong turns and roll them into a juggernaut."
— More magazine on I, IAGO