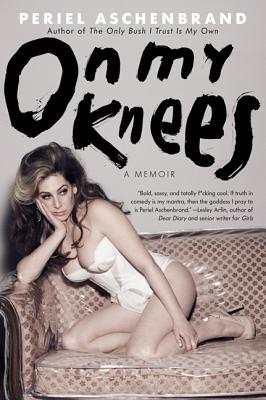 On My Knees (Paperback)
A Memoir
Harper Perennial, 9780062026897, 208pp.
Publication Date: June 18, 2013
* Individual store prices may vary.
Description
On My Knees is Periel Aschenbrand's seriously funny follow-up to her debut memoir The Only Bush I Trust Is My Own.
At the beginning of On My Knees, we find Periel chain-smoking her days away on a plastic-covered couch, watching reruns of Law & Order while she squats in her deceased grandmother's apartment and adjusts to being alone for the first time in a decade. So begins a Dante-esque journey through the many rings of single-girl hell that includes crazy one-night stands; an unhealthy attachment to a dental hygienist; a run-in with Philip Roth; and, in the end, a trip to Israel and an encounter with a man who just might be the one.
Hysterical and heartfelt, On My Knees traces Periel's riotous attempt to rebuild her life, her relationships, and her trademark confidence.
About the Author
Periel Aschenbrandis the author of the critically acclaimed book The Only Bush I Trust Is My Own. Heralded as a "provocateur" by the New York Times and "feisty, foxy, and smart" by Paper magazine, Aschenbrand has become a true modern-day voice for her generation. She lives in New York City.
Praise For On My Knees: A Memoir…
"Ribald, outrageous, gutter-mouthed, hilarious-a startling new voice in American letters. Watch out Portnoy, watch out Caulfield, watch out Bukowski, watch out E. L. James. Hell, everybody, real or imagined, just watch out! Because here comes Periel Aschenbrand!"
— Jonathan Ames

"Unsavorily compelling. . .in the manner of a female Howard Stern."
— New York Times

"Bold, sassy, and totally fucking cool. If truth in comedy is my mantra, then the goddess I pray to is Periel Aschenbrand."
— Lesley Arfin, author of Dear Diary and senior writer for Girls

"Periel Aschenbrand is funny, funny, funny. On My Knees is a cool book-made me laugh, made me think, made me keep turning pages. If you don't buy it and read it and dig, you're making a mistake."
— James Frey

"Meet the Lady Gaga of literature! On My Knees is sexy, funny, titillating, and badass."
— Touré

Laden with sharp humor and funny asides
— New York Observer

Brave, smart, sexy, and sharp, Aschenbrand is an expert at writing her life as a tantalizing striptease
— Interview