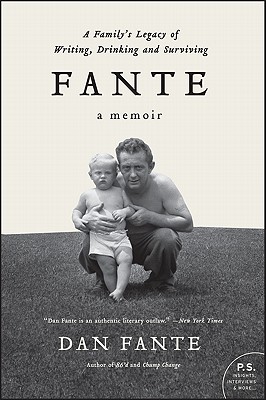 Fante
A Family's Legacy of Writing, Drinking and Surviving
Paperback

* Individual store prices may vary.
Description
No two lives could have been more different, yet similar in a few essential ways than John and Dan Fante′s. As father and son, John and Dan Fante were prone to fights, resentment and extended periods of silence. As men, they were damaged by alcoholism. As writers, they were compelled by anger, rage and unstoppable passion.
In FANTE, Dan Fante traces his family′s history from the hillsides of Italy to the immigrant neighborhoods of Colorado to Los Angeles. There, John Fante struggles to gain the literary recognition he so badly craves, and despite the publication of his best known work, ASK THE DUST, he turns to the steady paycheck of Hollywood, working as a screenwriter to support his family. We follow Dan through a troubled childhood to his discovery of life′s vices through work as a carnival barker and later as he hitchhikes to New York City, where he drives a taxi for twelve years. While John Fante′s rage over his perceived failures as a writer and his struggle with debilitating diabetes make him more and more miserable, Dan struggles with alcoholic blackouts, suicidal thoughts and what he deems a broken mind.
John was a writer whose literary contributions were not recognised until the end of his life. Dan was an alcoholic saved by writing, who at the age of 45 picked up his father′s old typewriter in order to ease the madness in his mind. Fante is the story of the evolution of a relationship between father and son who eventually found their way back to loving each other. In straightforward unapologetic prose, Dan Fante lays bare his family′s story from his point of view, with the rage and passion of a writer, which he feels was his true inheritance and his father′s greatest gift.
Praise For Fante: A Family's Legacy of Writing, Drinking and Surviving…
"[Fante] is frank and funny. Dan does not lionize or demonize his father, nor does he indulge in the self pitying or self gratifying aspects of memoir. Its an achievement in tone and delightful to read."
— Carolyn Kellogg, Los Angeles Times

"If writing is fighting, then Dan Fante goes fifteen rounds and stays standing. This is a fascinating story about two hard-edged men, survival and the passion to live and to write."
— Michael Connelly

"What a story. Riveting, harrowing, and extremely moving. Dan Fante's been to hell and back and taken notes along the way."
— Mary Dearborn Author of The Happiest Man Alive: A Biography of Henry Miller and Mailer: A Biography

"This book is a knockout, with all the down-and-out, kick-you-in-the-teeth, unflinching prose of self-taught street writers like Herbert Huncke and Hubert Selby, Jr. Dan Fante is now entrenched on my list of self-sabotaging, self-abusing fuckup writer anti-heroes."
— Neil Strauss, Author of The Game and Everyone Loves You When You're Dead

"A brilliant memoir. John and Dan Fante are two sides of the same coin. Both battered but resilient, they're writers who have written with pure honesty and blood and never gave up. It's one of the best memoirs I've read in years."
— Willy Vlautin, author of Lean on Pete and The Motel Life

"A vivid cautionary tale of a family's struggles with words, rage and the bottle."
— Kirkus Reviews

"[Fante's] anecdotal, spare narrative is full of fine, pointed writing and searing memories"
— Publishers Weekly

"The Fantes, father and son, have been a major new discovery for me . . . I can't think of the West Coast without them."
— — John Fowles, Author of The French Lieutenant's Woman — John Fowles, Author of The French Lieutenant's Woman John Fowles, author of The French Lieutenant's Woman

"With Fante, and his father before him, there are never any false feelings or pretentiousness . . . you know he has been where he writes from, and judging by the sound of things, it has been one hell of a wild ride."
— Sacramento Book Review

"Dan Fante is an authentic literary outlaw."
— New York Times

"If you like your prose vodka-soaked, soulful, and bleeding on the page, then Fante is your man."
— Ben Meyers, 3AM Magazine Ben Meyers, 3AM Magazine Ben Meyers, 3AM Magazine Ben Meyers, 3AM Magazine

"Fante offers moments that brush the genius of Bukowski and Hubert Selby, Jr."
— Elle

"Readers who don't hang up . . . won't be able to stop listening"
— New York Times

"Fante's stories are as funny as they are dark, and always deeply human in a world that's often not."
— Ron Shelton, Director (Bull Durham, White Men Can't Jump)

"Dan Fante's writing grabs you by the throat and doesn't let you go. It's authentic, gritty, and yet full of a flawed beauty found in the strangest places and the hardest people."
— Ron Shelton, Director (Bull Durham, White Men Can't Jump)
Harper Perennial, 9780062027092, 416pp.
Publication Date: August 30, 2011
About the Author
Dan Fante is the author of the memoir Fante, the novels 86'd, Chump Change, Mooch, and Spitting Off Tall Buildings, and several books of poetry, short stories, and plays. He lives in Los Angeles with his wife and son.
or
Not Currently Available for Direct Purchase