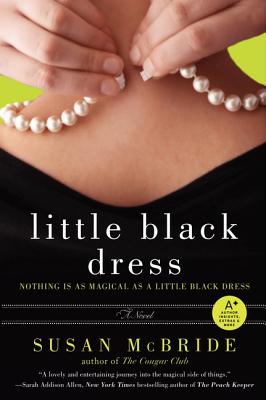 Little Black Dress
A Novel
Paperback

* Individual store prices may vary.
Other Editions of This Title:
MP3 CD (7/5/2016)
Description
"I'll read anything by Susan McBride."
—Charlaine Harris, New York Times bestselling author of the Sookie Stackhouse novels
"I'm madly in love with this full-of-surprises story about secrets, family ties—and one magical little black dress. One of my favorite novels of the year."
—Melissa Senate, author of The Secret of Joy
"An enchanting escape into a magical world."
—M.J. Rose, internationally bestselling author
Can there be magic in a Little Black Dress? Susan McBride, author of The Cougar Club and the Debutante Dropout mystery series, answers with a resounding, unequivocal, "Yes!" McBride's mesmerizing tale of two sisters whose intertwined lives are torn apart by a remarkable dress that opens up doors to an inescapable future is an ingenious work of the imagination that recalls the novels of Claire Cook and Jill Kargman. A sometimes heartwarming, sometimes heartbreaking look into two generations of women, this Little Black Dress is something every fan of quality contemporary women's fiction will want to own.

Praise For Little Black Dress: A Novel…
"Written with touching insight into family relationships and what we call home, The Little Black Dress is a lovely and entertaining journey into the magical side of things. I bet you'll never look at your closet the same way again." — Sarah Addison Allen
"With a deft hand and a sensitive heart, Susan McBride spins a magical tale. A bittersweet, Gothic past melds perfectly with a tender and revelatory present. Part mystery, part love story. Emotionally satisfying, LITTLE BLACK DRESS is an enchanting escape into a magical and wonderful world. A delight to read." — International Bestselling Author M.J. Rose
"I'll read anything by Susan McBride." — Charlaine Harris, New York Times Bestselling Author
"Little Black Dress is big on heart, secrets and magic. This enchanting novel is a book-shelf essential." — Karin Gillespie, author of the Bottom Dollar Girl series and co-author of The Sweet Potato Queen's First Big Ass Novel.
"Susan McBride's LITTLE BLACK DRESS sparkles with magic! It's part love story, part mystery, part family saga, all wrapped together in the wonder of an amazing little dress that will leave you crying and cheering. I loved this book!"-- — Judy Merrill Larsen, author of ALL THE NUMBERS
"LITTLE BLACK DRESS is a luminous story filled with magic and hope. I loved this tender, touching and enchanting saga about the unique bond of mothers, daughters and sisters." — Ellen Meister
"LITTLE BLACK DRESS is a delightful, emotional and thoroughly engaging exploration of the connections that bind women together and the magic that's created when mothers, daughters and sisters learn to open their eyes and hearts to their truest desires." — Marilyn Brant, author of ACCORDING TO JANE Marilyn Brant, author of ACCORDING TO JANE
"I'm madly in love with this full-of-surprises story about secrets, family ties--and one magical little black dress. One of my favorite novels of the year." — Melissa Senate, author of The Secret of Joy and The Love Goddess' Cooking School
"With sparkle and wit, Susan McBride crafts both a family saga of painful secrets and a modern story of a woman who thinks she's got it all under control -- until everything she thought she knew blows apart. Little Black Dress is a beguiling story of fate, love, and magic." — Kristina Riggle, author of Things We Didn't Say
"...well-told tale of a mother-daughter relationship is fraught with secrets, disappointment, and unspoken love...well-paced love story to those who can appreciate three...sexy heroines who know history and have rich ones of their own." — Publishers Weekly
"Seamlessly weaving their stories together, McBride relates a tale of love that endures." — Southern Pines Pilot
William Morrow Paperbacks, 9780062027191, 320pp.
Publication Date: August 23, 2011
About the Author
Susan McBride is the USA Today bestselling author of Blue Blood and the Debutante Dropout Mysteries that include The Good Girl's Guide to Murder, The Lone Star Lonely Hearts Club, Night of the Living Deb, Too Pretty to Die, and Say Yes to the Death. She also writes the bestselling River Road Mysteries and has penned three women's fiction titles: The Truth About Love and Lightning, Little Black Dress, and The Cougar Club. She chronicled her bout with breast cancer in the short memoir, In the Pink: How I Met the Perfect (Younger) Man, Survived Breast Cancer, and Found True Happiness After Forty. She lives in St. Louis, Missouri, with her husband and daughter.
How are sisters Evie and Anna different? Are they alike in any way?
Do you see a parallel between the sisters' difficult relationship and Toni's relationship with Evie? Is it a case of history repeating itself (i.e., Evie's relationship with Anna) or something else?
Anna was instantly drawn into the Gypsy's shop while Evie wanted nothing to do with it. While Anna seemed mesmerized by the tale of the black dress and easily accepted that it was magical, Evie thought her foolish. What makes Anna so reckless and Evie so cautious?
Toni is as wary of the dress as Evie. Does she handle glimpsing her fate any better than Evie or Anna?
Once Evie had experienced the power of the dress, did it help her to understand why Anna left? Or did it further confuse her?
Toni resisted going back to Blue Hills because she felt like her past was behind her; instead she discovered that so much of who she is relates to her own history and that of her family. Did she have to leave home to find herself? Or did Toni truly discover who she is once she returned to Blue Hills?
When Anna walks into the river with the baby, Evie wishes her gone and can't imagine ever forgiving her. Do you think Anna's punishment was enough or too much? Why does it take so long for Evie to forgive? Do you think what Anna did was unforgivable?
Is there any one thing that makes Toni realize she isn't in love with Greg, or is it a case of absence giving her clarity rather than making the heart grow fonder?
What is the significance of Toni taking part in the ice harvest?
The novel is full of water imagery as water is a life-giver but also has the power to take lives. How does this imagery symbolize what each main character goes through? (For example, Evie's sense of treading water while she's in a coma.)
Should Anna and Evie have told Toni the truth about her birth? Was Anna right to want to keep it a secret for the time being? Is there ever a case when keeping secrets is less damaging than telling the truth?
Do you have a personal belonging that holds some "magic" for you? Does it make you feel better, happier, or more secure?
or
Not Currently Available for Direct Purchase