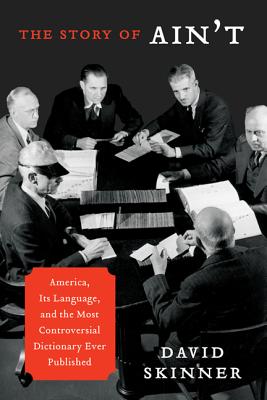 The Story of Ain't (Hardcover)
America, Its Language, and the Most Controversial Dictionary Ever Published
Harper, 9780062027467, 368pp.
Publication Date: October 9, 2012
Other Editions of This Title:
Paperback (9/24/2013)
Paperback, Large Print (10/9/2012)
* Individual store prices may vary.
Description
"It takes true brilliance to lift the arid tellings of lexicographic fussing into the readable realm of the thriller and the bodice-ripper….David Skinner has done precisely this, taking a fine story and honing it to popular perfection."
—Simon Winchester, New York Times bestselling author of The Professor and the Madman
The Story of Ain't by David Skinner is the captivating true chronicle of the creation of Merriam Webster's Third New International Dictionary in 1961, the most controversial dictionary ever published. Skinner's surprising and engaging, erudite and witty account will enthrall fans of Winchester's The Professor and the Madman and The Meaning of Everything, and The Know-It-All by A.J. Jacobs, as it explores a culture in transition and the brilliant, colorful individuals behind it. The Story of Ain't is a smart, often outrageous, and altogether remarkable tale of how egos, infighting, and controversy shaped one of America's most authoritative language texts, sparking a furious language debate that the late, great author David Foster Wallace (Infinite Jest) once called "the Fort Sumter of the Usage Wars." 

About the Author
David Skinner is a writer and editor living in Alexandria, Virginia. He writes about language, culture, and his life as a husband, father, and suburbanite. He has been a staff editor at the Weekly Standard, for which he still writes, and an editor of Doublethink magazine. He has written for the Wall Street Journal, the New Atlantis, Slate, the Washington Times, the American Spectator, and many other publications. Skinner is the editor of Humanities magazine, which is published by the National Endowment for the Humanities, and is on the usage panel for the American Heritage Dictionary.
Praise For The Story of Ain't: America, Its Language, and the Most Controversial Dictionary Ever Published…
"An immensely entertaining history…Skinner manages to transform this somewhat arcane lexicographical dispute into a real page turner…Skinner ably and amusingly captures the hysterical tone of the bitter public quarrel while suggesting that it foreshadowed many of the arguments over values and standards that we're still fighting about today."
— Associated Press

"An engrossing account of the continuing ruckus over Webster's Third New International Dictionary."
— New York Times Book Review

"Mr. Skinner does a fine job detailing the controversy that greeted Webster's Third, but he is even stronger when describing the internal politics at Merriam and the mechanics of revising a dictionary."
— Wall Street Journal

"…spry cultural history"
— Harper's

"[Skinner] provides well-argued critiques of the orthodoxies that define language studies"
— New York Times

"A highly entertaining, thoughtful new book."
— Boston Globe

"Skinner is good on the development of 20th-century linguistics and on the interplay between America's language and its sense of itself."
— Financial Times

"…comprehensive and evenhanded, and written in a clear and jaunty style…What in less skilled hands might have been arid and parochial in David Skinner's becomes a lively account of a subject of interest to anyone concerned about the English language in America."
— Weekly Standard

"Mr. Skinner weaves a true tale fascinating not just to linguists and lexicographers, but to anyone interested in the evolution of our language during a critical period in America's History."
— New York Journal of Books

"Skinner has written an entertaining book about a controversy that still lingers and throws light on how emotional our ties to language are….a funny and informative account."
— Columbus Dispatch

"...delightful new book on lexicography…Skinner leaves no doubt as to the importance of Webster's Third as the game-changer in dictionary standards and the impetus for an American cultural metamorphosis."
— Shelf Awareness

"The Story of Ain't is a book about words, the national character, and the inevitability of change. And it's so fun, you might not even realize that you're joining the debate."
— Hillsdale Collegian

"Skinner…offers a highly entertaining and intelligent re-creation of events surrounding the 1961 publication of Webster's Third New International Dictionary by G. & C. Merriam…a rich and absorbing exploration of the changing standards in American language and culture."
— Publishers Weekly (starred review)

"A compelling reminder of the cultural significance of words and word-making."
— Booklist (starred review)

"A fascinating, highly entertaining cultural history that will enchant an audience beyond word nerds....Skinner nimbly, concisely--and without academic dryness--traces the everyday changes that shaped what came out of Americans' mouths and into our dictionaries."
— BookPage

"It takes true brilliance to lift the arid tellings of lexicographic fussing into the readable realm of the thriller and the bodice-ripper. With his riveting account…David Skinner has done precisely this, taking a fine story and honing it to popular perfection."
— Simon Winchester, New York Times bestselling author of The Professor and the Madman and Atlantic

"The flap over Webster's Third in 1961 was a never-to-be-repeated episode in American cultural history…. David Skinner tells it brilliantly…as he brings to life the odd cast of characters who played a role in the affair."
— Geoffrey Nunberg, University of California at Berkeley, emeritus chair of the American Heritage Dictionary usage panel, language commentator, "Fresh Air," NPR

"A fascinating account of a major paradigm shift in the American language, when a group of bold lexicographers decided to tell it like it is and causing a huge cultural rumpus. This is more than just a story about a new edition of a dictionary."
— Christopher Buckley, New York Times bestselling author of They Eat Puppies, Don't They? and Thank You for Smoking

"David Skinner tells the tale of a great battle in the 1960s War Between the Real and the Ideal. It was a conflict with realists laying claim to idealism and idealists asserting realism and vice versa. Skinner makes it all clear."
— P.J. O'Rourke, New York Times bestselling author of Holidays in Heck and Don't Vote--It Just Encourages

"A cultural story as much as a linguistic one, teeming with colorful characters and big ideas, The Story of Ain't is a must read for anybody who loves language."
— Toby Lester, author of Da Vinci's Ghost and The Fourth Part of the World
or
Not Currently Available for Direct Purchase