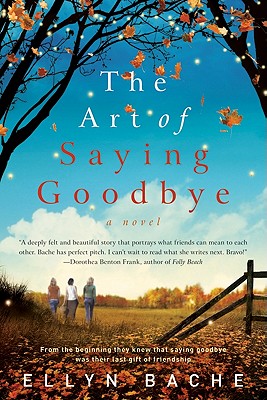 The Art of Saying Goodbye (Paperback)
A Novel
William Morrow Paperbacks, 9780062033680, 352pp.
Publication Date: June 7, 2011
Other Editions of This Title:
Hardcover, Large Print (10/1/2011)
* Individual store prices may vary.
Description
"Bache writes straight from the heart, peopling her pages with characters you will never forget."
—Lee Smith, author of Fair and Tender Ladies
"Ellyn Bache draws her characters from the inside."
—Baltimore Sun
Critically acclaimed author Ellyn Bache captivates with The Art of Saying Goodbye, a beautiful and poignant story of four suburban women who gain new insights and appreciations of their own lives when a much-loved neighbor falls gravely ill. In the tradition of Kristin Hannah's Firefly Lane and Marisa de los Santos's Belong to Me, Bache's The Art of Saying Goodbye is a beautiful and touching story of friendship, love, commitment, and self-discovery that will enthrall readers of Jodi Picault and Jill Barnett.

Praise For The Art of Saying Goodbye: A Novel…
Grief, friendship, marriage, love and uncertainty—it's all here—portrayed quietly and convincingly, without being over done. ...[A] glimpse into the lives of this intertwined group of women and their everlasting, complicated friendships—which is how a book about women and their complicated friendships should be.
— New York Journal of Books

"A moving, gratifying, and inspiring reminder to live life to its fullest and demonstrate love in every possible way to friends and family."
— Publishers Weekly

"Sweet, profound, sweeping in its themes yet detailed in its nuances, Bache's latest explores the layers of friendship involved in facing serious illness and buried secrets."
— Booklist

The secrets revealed and the emotions exposed make this a compelling read.
— Charlotte Observer

"A beautiful story of friendship in the face of tragedy."
— Fresh Fiction
In many ways, Paisley is the star of the suburban development where she lives – the pretty one who's nice to everyone, who gives the best parties, who seems to enjoy raising her daughters and living her conventional life.  In what ways does her "stardom" inspire varying emotions in her neighbors?  Overall, how do they regard her before she gets sick?  How does this affect the way they feel after they learn she's ill?
Julianne is horrified by what she sees as her dark "gift" of diagnosis.  Her ex-husband thinks it has a more rational explanation.  Which one do you agree with?  Why?
Although Paisley's illness causes her neighbors to experience a wide range of emotions, everything from disbelief to sadness, at times some of them feel less than sympathetic.  Which ones struggle with this most?  In what ways do their feelings rise directly from Paisley's situation, and in what ways from their own, personal issues?
Ginger has never been as close with Paisley as some of her neighbors, but when Paisley gets sick, she feels helpless.  How does she finally resolve this?  Discuss how the theme of helplessness is played out with some of the other characters.
Iona is older than the other women in the novel, and more cynical.  Yet early on, Paisley brings her into their circle by inviting her to her hot-tub party.  Why do you think she does this?
What do you make of Iona's shifting relationship with her stepson and his wife?  Why does she respond so powerfully to the prayer meeting she doesn't want to attend?  At the end of the book, do you think she is a different person than she was at the beginning?  If so, what caused her transformation?
Andrea is grateful to Paisley for her kindness when her daughter was sick.  She wants to play the same role for Paisley, but she feels shut out.  Is she, really?
Early in the novel, Julianne muses that Andrea's life is still dominated by the illness of a child who got well ten years ago.  Why do you think Andrea is finally able to take action and free herself of that bondage?
Paisley helps people in some unconventional ways.  What is your sense of the rightness or wrongness of her approach in various situations?
What do we learn about Paisley in the sections from Paisley's point of view?  How do those sections influence the way you think about her?
Which of Paisley's neighbors do you like best?  Least?  Why?
If you had to take one of these women to lunch, which one would it be, and why?