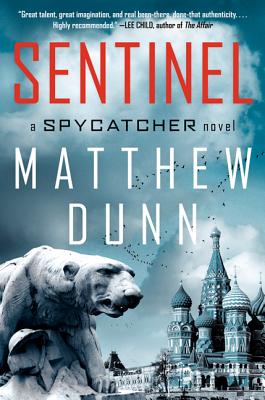 Sentinel (Hardcover)
A Will Cochrane Novel (Spycatcher #2)
William Morrow, 9780062037923, 320pp.
Publication Date: August 7, 2012
Other Editions of This Title:
Paperback (12/5/2013)
Paperback, Large Print (8/14/2012)
Mass Market Paperbound (3/26/2013)
* Individual store prices may vary.
Description
"Great talent, great imagination, and real been-there done-that authenticity."
—Lee Child
"Not since Fleming charged Bond with the safety of the world has the international secret agent mystique been so anchored with an insider's reality."
—Noah Boyd, author of The Bricklayer and Agent X
Matthew Dunn knows his spycraft—and he proves it once again in Sentinel, his second electrifying Spycatcher novel. A former British M16 field officer trained in all aspects of intelligence collection, small-arms and explosives, military unarmed combat, and more, Dunn has an addition talent most other spies lack: he can really write! In Sentinel, Dunn brings back Agent Will Cochrane—whom Kirkus Reviews calls, "a Nietzschean hero who looks poised to give Lee Child's Jack Reacher a run for his readers"—and sends him to Avacha Bay in eastern Russia, where he must infiltrate a top-secret submarine base, decode a cryptic message from a deep undercover operative, and quite possibly prevent a devastating war. Espionage fiction fans who regularly devour the works of Daniel Silva, Robert Ludlum, Alex Berenson, Ted Bell, Brad Thor, Vince Flynn, and Barry Eisler will discover there's a new ace on the international thriller scene.

About the Author
As an MI6 field officer, Matthew Dunn recruited and ran agents, coordinated and participated in special operations, and acted in deep-cover roles throughout the world. He operated in environments where, if captured, he would have been executed. Dunn was trained in all aspects of intelligence collection, deep- cover deployments, small arms, explosives, military unarmed combat, surveillance, and infiltration.
Medals are never awarded to modern MI6 officers, but Dunn was the recipient of a rare personal commendation from the secretary of state for work he did on one mission, which was deemed so significant that it directly influenced the success of a major international incident.
During his time in MI6, Matthew conducted approximately seventy missions. All of them were successful. He currently lives in England, where he is at work on his next novel.
Praise For Sentinel: A Will Cochrane Novel (Spycatcher #2)…
"An in Spycatcher, Dunn's action scenes are vividly drawn. Lovers of derring-do will love this series."
— Booklist on Sentinel

"Dunn delivers insights into a world most of us will never experience—except between the covers of a book, or maybe someday in a movie as good as the best of the Bond and Bourne sagas."
— Oakland Tribune on Sentinel

"Great talent, great imagination, and real been-there, done-that authenticity. . . Highly recommended."
— Lee Child, New York Times bestselling author of The Affair

"Dunn, a former M16 officer, fashions a Nietzschean hero who looks poised to give Lee Child's Jack Reacher a run for his readers. . . . This is [a] twisty, cleverly crafted work."
— Kirkus Reviews on Spycatcher

"Matthew Dunn is [a] very talented new author. I know of no other spy thriller that so successfully blends the fascinating nuances of the business of espionage and intelligence work with full-throttle suspense storytelling."
— Jeffery Deaver, New York Times bestselling author of Carte Blanche

"Terse conversations infused with subtle power plays, brutal encounters among allies with competing agendas, and forays into hostile territory orchestrated for clockwork efficiency but vulnerable to deadly missteps. . . . A stylish and assured debut."
— Washington Post on Spycatcher

"[Dunn] has created a plot with plenty of action and lots of twists and turns . . . nonstop action and relentless danger."
— Associated Press on Spycatcher

"Spycatcher makes a strong argument that it takes a real spy to write a truly authentic espionage novel . . . [The story] practically bursts at the seams with boots-on-the-ground insight and realism . . . Dunn is a gifted storyteller."
— Fort Worth Star-Telegram on Spycatcher

"Like le Carré and Fleming before him, [Dunn] is the real thing, a former member of SIS turned fictional chronicler of the secret world. . . . Meet Will Cochrane, a one-man weapon of mass destruction; 007 is a cocktail-sipping lush compared with Cochrane."
— The Telegraph (UK) on Spycatcher

"A real spy proves he is a real writer—and a truly deft and inventive one. This is a stunning debut."
— Ted Bell, New York Times bestselling author of Phantom