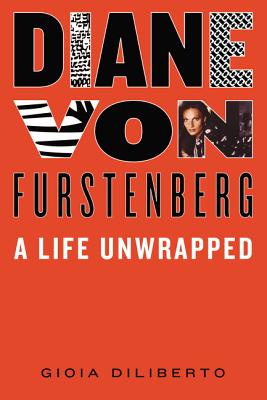 Diane von Furstenberg
A Life Unwrapped
Hardcover

* Individual store prices may vary.
Other Editions of This Title:
Paperback (7/26/2016)
Description
A sweeping biography of one of the most influential and controversial legends of late twentieth-century fashion, an iconic designer whose colorful creations, including the "wrap dress," captured the modern feminist spirit.
The daughter of a Holocaust survivor and wife of an Austrian nobleman, Diane von Furstenberg burst onto New York's fashion scene in 1969, and within a few years became an international sensation with her colorful wrap dress in printed jersey. Embraced by millions of American women of all ages, sizes, and shapes, the dress became a cult object and symbol of women's liberation, tied inexorably to the image of youth, independence, and sex Diane herself projected.
In this masterful biography, Gioia Diliberto brings Diane's extraordinary life into focus, from her post-World-War-II childhood in Belgium, through her rise to the top of the fashion world during the decadent seventies and glamorous go-go eighties, to her humiliating failures both professional and personal, and her remarkable comeback in the nineties. Like Coco Chanel, Diane has always been her own best advertisement. Morphing from a frizzy brunette outsider in a sea of sleek blondes to a stunning pop cultural icon, she embodied the brand she created—"the DVF woman," a model of self-sufficiency, sensuality, and confidence.
Diliberto's captivating, balanced portrait, based on scores of interviews with Diane's family, friends, lovers, employees, and the designer herself, explores von Furstenberg's relationships with her husbands and lovers, and illuminates fashion's evolution from rare luxury to marketing monster and the development of a uniquely American style. Lively and insightful, the book also explores the larger world of the nation's elite, where fashion, culture, society, politics, and Hollywood collide. Diane von Furstenberg is a modern fable of self-invention, fame, wealth, failure, and success that mirrors late-twentieth century America itself.
Praise For Diane von Furstenberg: A Life Unwrapped…
"Fascinating."
— New York Times Sunday Book Review

"Un-put-downable."
— Wall Street Journal

One of BUSTLE's "11 Women In Nonfiction Who Are Totally Killing It" "Diliberto captures Diane's determination in the early days to build a fashion brand and her great success striking the exact right note at the right moment with the creation of her modern wrap dress."
— Providence Journal

"A compelling portrait."
— Atlanta Journal-Constitution

"Absorbing . . . an all-access pass into the life of this enterprising artist [and] a lively portrait of a bold and determined woman as colorful and alluring as her fashions."
— Chicago Tribune

"Fast and engrossing...a fun and insightful read about both the woman and the larger fashion universe."
— Chicago Business Journal

"A fresh look at DVF's life...as powerfully seductive as the designer's iconic wrap dress."
— DuJour

"Fascinating . . . examines the designer's rise to stardom from her postwar, European childhood to the personal scandals of her adulthood through a feminist lens."
— Bustle

"Diliberto's biography of a determined yet often self-destructive woman adds to the legacy this force for fashion and female autonomy has bequeathed to the world."
— Booklist

"Explores the pulse and impulses of the designer."
— Daily Mail (London)

"Thoroughly reported . . . rich with delicious details . . . a timely tale of a woman who knows what other women want: Everything."
— USA Today

"Unwrap and enjoy."
— Library Journal

"Fascinating….A detailed, grittier portrait of the woman Hemingway loved and left."
— Newsday on Paris without End

"A bittersweet modern love story [that] reads as easily as a novel . . . their intimacy and candour was the raw material for Hemingway's great early short stories which achieved a powerful new realism about he relations between men and women."
— Vogue on Paris Without End

"A fresh and incisive look at the first--and most intriguing--of [Hemingway's] four wives."
— The Boston Globe on Paris Without End

"Diliberto's prose . . . sings . . . leaves the reader with a vivid sense of the beauty in question, in both the painter's version, and the lady's herself."
— San Francisco Chronicle on I Am Madame X

"A complex and often incredibly fun portrait . . . Diliberto deftly highlights the heady social whirl of Paris . . . [A] handsomely imagined story."
— Los Angeles Times on I Am Madame X

"Postwar Paris and the ruthlessly competitive atelier of Coco Chanel come to glamorously gritty life."
— Vogue on The Collection
Dey Street Books, 9780062041227, 320pp.
Publication Date: July 7, 2015
About the Author
Gioia Diliberto is a journalist, biographer, and novelist. She is the author of the biographies Paris without End: The True Story of Hemingway's First Wife, A Useful Woman: The Early Life of Jane Addams, and Debutante: The Story of Brenda Frazier and the novels I Am Madame X and The Collection. Her work has appeared in numerous publications, including the New York Times, Los Angeles Times, the Chicago Tribune, Smithsonian, and Vanity Fair, and she is a visiting lecturer in writing at the Savannah College of Art and Design and DePaul University. She lives in Chicago.
or
Not Currently Available for Direct Purchase