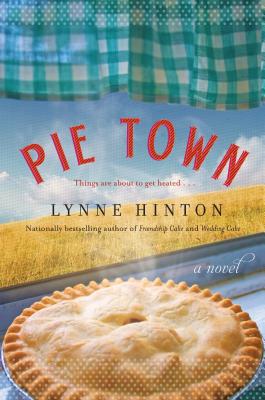 Pie Town
A Novel
Paperback

* Individual store prices may vary.
Description
"Lynne Hinton deftly pens an uplifting tale of hope, faith, and community."
—Lori Wilde, New York Times bestselling author of The Welcome Home Garden Club
"Hinton's writing style is similar to Eudora Welty's: easy, conversational, down-home."
—Greensboro News & Record
Welcome to Pie Town! Bestselling author Lynne Hinton—who has delighted readers with her heartwarming tales of faith, food, and friendship—has cooked up a delectable treat for fans of Fannie Flagg, Whitney Otto, Kaye Gibbons, and Jan Karon's Mitford books…as well as the dedicated readers of her own popular Hope Springs novels (Friendship Cake, Christmas Cake, et al). The first in a series centered around the inhabitants of a small New Mexico town once renowned for its homemade desserts, Pie Town is the touching and funny tale about the unexpected changes a sleepy little southwestern community undergoes following the arrival of a well-meaning but woefully unprepared priest and a young hitchhiker who looks like big trouble.

Praise For Pie Town: A Novel…
"Hinton has an excellent sense of Southwestern rhythms and cadence." — Publishers Weekly on Pie Town
"A feel-good tale....Heartfelt." — Kirkus Reviews on Pie Town
"[A] feel-good story—one that will be enjoyed by readers of Jan Karon and Nicholas Sparks." — Booklist on Pie Town
"Reading Hinton's light, quickly moving prose feels like sitting down to catch up with an old friend over coffee." — New Mexico Magazine on Pie Town
"Warm, poignant and moving....A lovely book." — The Pilot (Southern Pines, NC) on Pie Town
"Lynne Hinton deftly pens an uplifting tale of hope, faith, and community." — Lori Wilde, New York Times bestselling author of The Welcome Home Garden Club on Pie Town
William Morrow Paperbacks, 9780062045089, 352pp.
Publication Date: June 7, 2011
About the Author
A retreat leader and writing teacher, Lynne Hinton is the author of numerous novels including Pie Town, Wedding Cake, Christmas Cake, Friendship Cake, Hope Springs, and Forever Friends. She also writes a mystery series under the name Jackie Lynn. She lives in New Mexico.
New Mexico is often described as three cultures living together:Native American, Hispanic, and Caucasian. Which characters in the book represent these three cultures, and how?
Pie Town is a very small town. What are the advantages to living in a small town? What are the disadvantages?
What is the role of the angel, Alice, in this story? Who needs the angel most in Pie Town? Is it Alex or someone else?
How would you describe Father George? Were you surprised by his secret?
At what point in the story did you think Trina might be pregnant? Do you think she was treated fairly after people found out? Where do you think an unmarried and pregnant girl would get the most support, in a small town or in a more urban setting?
Despite its name, there are no pies in Pie Town. What significance does this have in the story? Do you think there will ever be pies in Pie Town?
How does Pie Town illustrate the idea of "community"? How do you define community?
What ultimately motivates the townspeople to help Father George rebuild the church? What does the church symbolize to the town? Why did Alex think it was so important for Pie Town to rebuild Holy Family Church?
Why does Alex never seem to be mad at his mother for leaving? Do you think children forgive more easily than adults? Why or why not?
Do you prefer cake or pie? What's your favorite kind of pie?