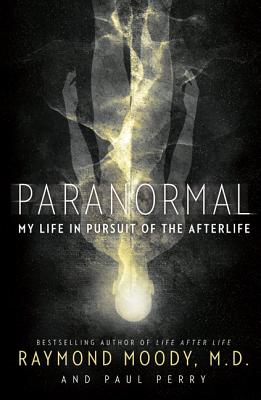 Paranormal (Hardcover)
My Life in Pursuit of the Afterlife
HarperOne, 9780062046420, 256pp.
Publication Date: February 1, 2012
* Individual store prices may vary.
Description
The bestselling author of Life After Life, Raymond Moody, offers a stunning, myth-busting memoir of everything he has learned in a lifetime studying "the other side" and our connection to it. The grandfather of the NDE (near death experience) movement, Raymond Moody has, in the words of Dr. Larry Dossey, author of The Power of Premonitions, "radically changed the way modern humans think about the afterlife." Paranormal, essential reading for fans of Dannion Brinkley and Jeffrey Long, is "a thrilling and inspiring literary experience. Anyone who is not grateful for Moody's immense contribution to human welfare ought to check his pulse."

Praise For Paranormal: My Life in Pursuit of the Afterlife…
"A lucid, engrossing memoir from a psychologist and philosopher dedicated to the afterlife. . . . The supernatural undertones saturating the narrative are dwarfed by an overwhelming sense that this eccentric visionary just might be on to something . . . the fascinating life story of an impassioned mystical maverick."
-Kirkus Reviews

"[In Paranormal] Moody… looks back, reflecting on his fascination with death, the effect of his life's work, and trying to figure out what it's all meant. One key revelation: … the psychologist and philosopher…says he has 'woken up to God.'"
-Religious News Service

"Raymond Moody radically changed the way modern humans think about the afterlife. In Paranormal, he sums up his journey and shares fresh insights. The result is a thrilling and inspiring literary experience. Anyone who is not grateful for Moody's immense contribution to human welfare ought to check his pulse."
-Larry Dossey, MD, Author of Healing Words and The Power of Premonitions

"Paranormal is the fascinating and heart-warming story of Dr. Raymond Moody's extraordinary life, chronicling the exciting journey that has given us some of the strongest evidence that life after death is a reality. I highly recommend it."
-Jeffrey Long, M.D., author of Evidence of the Afterlife

"Raymond's Moody lifetime pioneering activities have been the major impulse for all later research that has been attributed to breaking the scientific and social taboo about near-death experiences, shared death experiences, and the possibility of contact with deceased relatives."
-Pim van Lommel, author of Consciousness Beyond Life

"The personal story of Raymond's life before and during his pioneering research into what happens at the point of death—once again expertly written by Paul Perry—will help every reader better understand their own search for the same answers."
-Dannion Brinkley, author of Secrets of the Light

"Best known as the man who coined the phrase 'near-death experience' . . . Moody is candid and upfront about his life working with near-death experiences, past-life regression, and mirror gazing . . . an interesting addition to any library."
-Library Journal
Book Videos
or
Not Currently Available for Direct Purchase