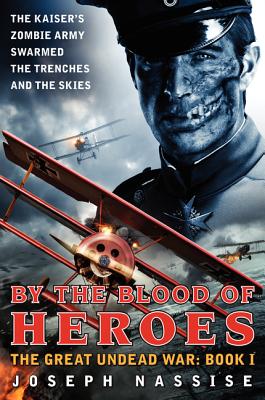 By the Blood of Heroes
The Great Undead War: Book I
Paperback

* Individual store prices may vary.
Description
"Joe Nassise has raised the bar for the whole genre."
—Jonathan Maberry, New York Times bestselling author of The Dragon Factory
Combine the take-no-prisoners heroic grit of Quentin Tarantino's Inglorious Basterds with the irreverent inventiveness of George A. Romero's Dawn of the Dead, set it on the blood-and-gore-soaked European battlefields of World War One, and you get By the Blood of Heroes, a wildly imaginative alternate history zombie novel by acclaimed urban fantasy author Joseph Nassise. When the German high command employs a terrible new chemical weapon that reanimates the dead, Allied forces must take on the Kaiser's zombie army in order to rescue a downed American flying ace in the first book of Nassise's The Great Undead War saga. By the Blood of Heroes is a deliciously gruesome adventure that horror and alternate history lovers, steampunk aficionados, and fans of such zombie-centric offerings as TV's The Walking Dead, popular literature's World War Z, Pride and Prejudice and Zombies, and Zombie Haiku, and the Resident Evil video game and film series will eagerly devour.

Praise For By the Blood of Heroes: The Great Undead War: Book I…
"Relentless pacing, nonstop action, and improbable but nifty-sounding military gadgetry (portable personal gliding devices, magnetism grenades) power an unremittingly entertaining story line that with broad appeal for history buffs, horror aficionados, and fans of steampunk."
— Publishers Weekly

"Urban fantasy and sf author Nassise­ (Eyes To See) raises the alternate history genre to brilliant new heights. This is a treat for zombie and horror fans, military fiction aficionados, history buffs, and steampunk lovers alike, all of whom will be clamoring for the next installment."
— Library Journal

"BY THE BLOOD OF HEROES is a genre-twisting madhouse of horror, Steampunk SF and zombie madness that is too damn much fun to miss! Buckle up...this is a wild ride!"
— Jonathan Maberry, New York Times bestselling author of ROT & RUIN and FLESH & BONE Jonathan Maberry, New York Times bestselling author of ROT & RUIN and FLESH & BONE Jonathan Maberry, New York Times bestselling author of ROT & RUIN and FLESH & BONE Jon

"I would argue Joseph Nassise is the most important thing to happen to zombies since Max Brooks, and that's no hyperbole. He's really that good."
— Joe McKinney, author of Dead City and Flesh Easters

"Joe Nassise delivers one amazing alternative history adventure in By the Blood of Heroes....a tour-de-force of adrenaline-drenched mayhem."
— Joe Merz, author of Shadow Warrior and Lawson Vampire series
Harper Voyager, 9780062048752, 352pp.
Publication Date: May 1, 2012
About the Author
Joseph Nassise is the author of more than twenty novels, including the internationally bestselling Templar Chronicles series, the Jeremiah Hunt series, and several books in the Rogue Angel action/adventure series from Gold Eagle. He's a former president of the Horror Writers Association, the world's largest organization of professional horror writers, and a multiple Bram Stoker Award and International Horror Guild Award nominee.