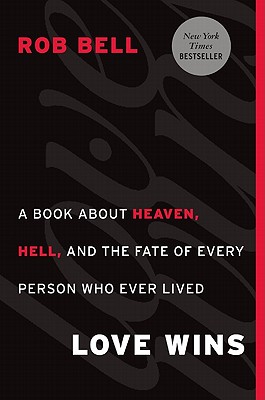 Love Wins (Hardcover)
A Book About Heaven, Hell, and the Fate of Every Person Who Ever Lived
HarperOne, 9780062049643, 224pp.
Publication Date: March 15, 2011
Other Editions of This Title:
Digital Audiobook (3/14/2011)
Paperback (7/24/2012)
Hardcover (3/12/2013)
CD-Audio (6/7/2011)
Paperback, Large Print (8/20/2013)
Paperback (3/1/2012)
* Individual store prices may vary.
Description
In Love Wins, bestselling author, international teacher, and speaker Rob Bell (Velvet Elvis, Drops Like Stars) addresses one of the most controversial issues of faith—hell and the afterlife—arguing, would a loving God send people to eternal torment forever?
Rob Bell is an electrifying, unconventional pastor whom Time magazine calls "a singular rock star in the church world," with millions viewing his NOOMA videos.
With searing insight, Bell puts hell on trial with a hopeful message—eternal life doesn't start when we die; it starts right now. And ultimately, Love Wins.
About the Author
Rob Bell is a New York Times bestselling author, speaker, and spiritual teacher. His books include Love Wins, How to Be Here, What We Talk About When We Talk About God, Velvet Elvis, The Zimzum of Love, Sex God, Jesus Wants to Save Christians, and Drops Like Stars. He hosts the weekly podcast The Robcast, which was named by iTunes as one of the best of 2015. He was profiled in The New Yorker and in TIME Magazine as one of 2011's hundred most influential people. He and his wife, Kristen, have three children and live in Los Angeles.
Praise For Love Wins: A Book About Heaven, Hell, and the Fate of Every Person Who Ever Lived…
"In Love Wins, Rob Bell tackles the old heaven-and-hell question and offers a courageous alternative answer. Thousands of readers will find freedom and hope and a new way of understanding the biblical story - from beginning to end."
— Brian D. McLaren, author of A New Kind of Christianity and Naked Spirituality

"It isn't easy to develop a biblical imagination that takes in the comprehensive and eternal work of Christ . . . Rob Bell goes a long way in helping us acquire just such an imagination--without a trace of soft sentimentality and without compromising an inch of evangelical conviction."
— Eugene H. Peterson, Professor Emeritus of Spiritual Theology, Regent College, and author of The Message and The Pastor

"A bold, prophetic and poetic masterpiece. I don't know any writer who expresses the inexpressible love of God as powerfully and as beautifully as Rob Bell! No one who seriously engages this book will put it down unchanged. A 'must read' book!"
— Greg Boyd, senior pastor at Woodland Hills Church and author of The Myth of a Christian Nation

"One of the nation's rock-star-popular young pastors, Rob Bell, has stuck a pitchfork in how Christians talk about damnation."
— USA Today

"Claiming that some versions of Jesus should be rejected, particularly those used to intimidate and inspire fear or hatred, Bell persuasively interprets the Bible as a message of love and redemption. . . . His style is characteristically concise and oral, his tone passionate and unabashedly positive."
— Publishers Weekly

"Bell fights every impulse in our culture to domesticate Jesus [and] challenges the reader to be open to surprise, mystery and all of the unanswerables. . . . Bell has given theologically suspicious Christians new courage to bet their life on Jesus Christ."
— Christian Century

"This attention-getter of a book ignited a heated popular conversation about whether God saves people like Gandhi or sends him and billions of other non-Christians to a fiery and painful place in the afterlife."
— Publishers Weekly, Best Books of the Year

"Love Wins will make Christians re-examine their faith and will help them reclaim a vital and exciting vision of heaven and God's love."
— Relevant

"Bell is at the forefront of a rethinking of Christianity in America."
— Time magazine

"One of the country's most influential evangelical pastors."
— New York Times

"This evangelical celebration of the love of God will open new doors for Jesus seekers fed up with the toxic hellfire and brimstone tirades of fundamentalist Christianity. As that happens, love wins again!"
— Spirituality and Practice

"Love Wins is sure to become a classic."
— Huffington Post
or
Not Currently Available for Direct Purchase