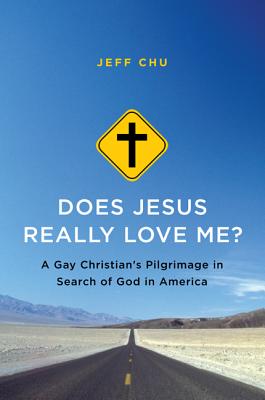 Does Jesus Really Love Me?
A Gay Christian's Pilgrimage in Search of God in America
Hardcover

* Individual store prices may vary.
Other Editions of This Title:
Digital Audiobook (3/30/2020)
Paperback (4/15/2014)
Compact Disc (3/31/2020)
MP3 CD (3/31/2020)
Compact Disc (3/31/2020)
Description
Does Jesus Really Love Me?: A Gay Christian's Pilgrimage in Search of God in America is part memoir and part investigative analysis that explores the explosive and confusing intersection of faith, politics, and sexuality in Christian America.
The quest to find an answer is at the heart of Does Jesus Really Love Me?—a personal journey of belief, an investigation, and a portrait of a faith and a nation at odds by award-winning reporter Jeff Chu.
From Brooklyn to Nashville to California, from Westboro Baptist Church and their "God Hates Fags" protest signs, to the pioneering Episcopalian bishop Mary Glasspool—who proclaims a message of liberation and divine love, Chu captures spiritual snapshots of Christian America at a remarkable moment, when tensions between both sides in the culture wars have rarely been higher.
Funny and heartbreaking, perplexing and wise, Does Jesus Really Love Me? is an intellectual, emotional, and spiritual pilgrimage that reveals a nation in crisis.
Praise For Does Jesus Really Love Me?: A Gay Christian's Pilgrimage in Search of God in America…
"Chu has written a fascinating, thoughtful, and important book. He captures the fractures and conflict at a moment when the issue of what to do with L.G.B.T. people is tearing Christian denominations apart. Does Jesus Really Love Me? deserves to be widely read."
— Dan Savage, New York Times Book Review (cover)

"Jeff's own story makes me hopeful. It's one of grace."
— Frank Bruni, New York Times

"An essential survey description of homosexuality in U.S. churches today that should be read by church members and leaders, and people who care about how U.S. Christians engage with sexual minorities and related issues."
— Christianity Today

"Poignant, at times painful, and spiced with wry humor, this is a must-read for LGBT people on their own spiritual journeys or anyone interested in reconciling religion with sexuality."
— Library Journal (starred review)

"The stories [Chu] relates are intriguing. . . . Revealing."
— Kirkus Reviews

"Outstandingly personable and appealing."
— Booklist

"Compassionate, engaging. . . . Resisting easy answers, Chu deftly portrays the lived experiences of Christians-mostly gay, though not all. . . . Overall, the book brings complexity and humanity to a discourse often lacking in both."
— Publishers Weekly (starred review)

"In telling these stories--chief among them his own--Jeff has done an extraordinary thing, showing us all to the God who is big enough and loving enough and true enough to meet all of us exactly where we're at. This book is moving, inspiring, and much needed."
— Rob Bell, author of What We Talk About When We Talk About God and Love Wins

"Finally an examination of Christianity and homosexuality that refuses to demonize either side. A smart and deeply personal exploration of one of the great public questions of our time."
— Stephen Prothero, author of The American Bible

"Jeff Chu has written a masterpiece about sexuality and spirituality in America. In this unforgettable blend of reportage and memoir, he doesn't demonize, ridicule, or pander to an ideology. Instead, he explores—and inspires. This is the smartest, and most humane, book about Christianity and homosexuality that I've ever read."
— Benoit Denizet-Lewis, author of America Anonymous and American Voyeur

"People struggling to reconcile homosexuality and Christianity will find much that validates their experiences in Chu's thoughtful book. Those confused why anyone would attempt to reconcile conservative Christian and gay identities will better understand the dilemmas gay Christians face after reading Does Jesus Really Love Me.
— Bernadette Barton, author of Pray the Gay Away: The Extraordinary Lives of Bible Belt Gays

"A beautiful, courageous, heartbreaking exploration. . . . Does Jesus Really Love Me? is both a moving personal memoir and a pivotal piece of reporting on what the deadlocked Christian fight over homosexuality is costing human beings, the churches, and our culture."
— David P. Gushee, Distinguished University Professor of Christian Ethics, Mercer University

"This is a book for anyone who believes the church is unbroken, who feels they have no place in a world that disdains them, or who is looking for fellowship amongst courageous travelers striking their own path."
— Lauren Sandler, author of Righteous: Dispatches from the Evangelical Youth Movement and One and Only: Why Having an Only Child, and Being One, is Better than You Think

"Jeff Chu is a smart and experienced guide through evangelical battles over homosexuality. . . . [He] leads us beyond the battlefields to unexpected scenes of hope. This is a sobering book, but above all a book of compassionate consolation."
— Mark D. Jordan, author of Recruiting Young Love

"Jeff Chu's pilgrimage across America to discover his own place as a gay man in the Christian church as well as attitudes about being gay and Christian across denominations is at once timely, smart, poignant, disturbing, inspiring, and maddening. . . . Essential reading for everybody."
— Donna Freitas, author of The End of Sex and Sex and the Soul

"A comprehensive, important, illuminating book for anyone exploring these issues."
— Bookriot.com
Harper, 9780062049735, 368pp.
Publication Date: March 26, 2013
About the Author
Jeff Chu grew up in Berkeley, California, and Miami, Florida. He graduated magna cum laude from Princeton, earned a master's degree from the London School of Economics, and received French-American Foundation and Harvard Divinity School fellowships. He has written for Time, Condé Nast Portfolio, the Wall Street Journal, and Fast Company, winning Deadline Club and German Marshall Fund awards for his work. He lives in Brooklyn, New York.
or
Not Currently Available for Direct Purchase