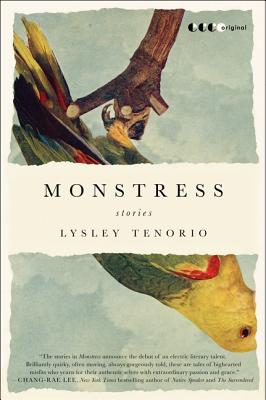 Monstress (Paperback)
Stories
Ecco, 9780062059567, 240pp.
Publication Date: January 31, 2012
* Individual store prices may vary.
Description
"The debut of an electric literary talent. Brilliantly quirky, often moving, always gorgeously told….Bravo for this fabulous American fiction!"
—Chang-Rae Lee, New York Times bestselling author of Native Speaker
"A wonderful story collection that's as wide and rich and complex as the geography it spans."
— Ben Fountain, PEN/Hemingway award-winning author of Brief Encounters with Che Guevera
"Tenorio is a deep and original writer, and Monstress is simply a beautiful book."
—Jessica Hagedorn, author of Dogeaters
A luminous collection of heartbreaking, vivid, startling, and gloriously unique stories set amongst the Filipino-American communities of California and the Philippines, Monstress heralds the arrival of a breathtaking new talent on the literary scene: Lysley Tenorio. Already the worthy recipient of a Pushcart Prize, a Whiting Writer's Award, and a Stegner Fellowship, Tenorio brilliantly explores the need to find connections, the melancholy of isolation, and the sometimes suffocating ties of family in tales that range from a California army base to a steamy moviehouse in Manilla, to the dangerous false glitter of Hollywood.

About the Author
Lysley Tenorio's stories have appeared in The Atlantic, Zoetrope: All-Story, Ploughshares, Manoa, and The Best New American Voices and The Pushcart Prize anthologies. A winner of the Whiting Writer's Award and a former Stegner Fellow at Stanford University, he has received fellowships from the University of Wisconsin, Phillips Exeter Academy, Yaddo, the MacDowell Colony, and the National Endowment for the Arts. Born in the Philippines, he currently lives in San Francisco and is an associate professor at Saint Mary's College of California.
Praise For Monstress: Stories…
"Tenorio's stories, set amid mingling nationalities and generations, prompt comparisons to the works of Junot Díaz and Jhumpa Lahiri… But the refreshingly wry stories...are rangier and...focused on uncanny moments when a character realizes that something essential to his or her life might be...false and frightening."
— Los Angeles Times

"[W]insome…illuminating…[Tenorio] manages to make fabulous setups plausible through his meticulous crafting, deeply imagining the lives of a memorable cast of eccentrics.... For readers who shy away from short stories on the grounds that they're often quiet or uneventful...Tenorio might make a convert of you."
— San Francisco Chronicle

"Tenorio, born in the Philippines and raised in California, has taken a uniquely Filipino-American perspective, polyglot and glittering with cinema dreams, and used it to make a bold collection of stories of the rejected, the helpless and the lost. Monstress is the debut of a singular talent."
— NPR.org

"A wondrous clutch of stories that pits the customs and superstitions of his Philippines homeland against the fads and fetishes of his adopted America. Set in Manila, Hollywood, and San Francisco, these yarns feature... memorably endearing eccentrics."
— Elle

"Tenorio writes persuasively about otherness and connection… [his] characters are zany, witty, and beautifully drawn… Ultimately, though, it is the unassuming pitch of these stories that makes them so exquisitely deadly."
— Slate, The XX Factor

"[Monstress] introduces a unique voice from an underrepresented slice of the American experience."
— The Onion A.V. Club

"[A] compassionate and entertaining new collection…The book's most poignant tale is Save the I-Hotel, a chiaroscuro of loneliness that's also a quiet portrait of abiding friendship and life-changing betrayal."
— Boston Globe

"Tenorio skillfully balances the beautiful and grotesque, the fantastical and commonplace to arrive at his particularly insightful renderings of the human condition.... [The] reader feels an immediate sense of intimacy with the most unlikely of protagonists."
— The Oregonian (Portland)

"Tenorio lays bare hearts that dare to hope but wind up disappointed, always with the wit and power of a born storyteller."
— San Francisco Weekly

"[A]n impressive debut… Although the situations are sometimes bleak, the stories benefit from Tenorio's wry sense of humor."
— San Jose Mercury News

"Complex, and powerful....This first collection introduces a writer of great promise, whose stories can illustrate tenderness at one minute and human cruelty not much later. Tenorio's writing is immediate, visceral even....[A] vital addition for short-fiction collections [and] readers of Junot Diaz, Chang-Rae Lee, and Jessica Hagedorn."
— Booklist

"[An] intimate and admirably controlled debut story collection… [Monstress is] an introduction to a promising writer who knows how to get a reader's attention....Tenorio has a great knack for striking story premises… [and] cultivates a plainspoken (but not blunt) style that recalls Tobias Wolff."
— Kirkus Reviews

"Spanning several decades and diverse settings, Tenorio's debut story collection is a vibrant survey of Filipino-American immigrant history. The tales are tragic, but Tenorio makes the most of his gift for black humor."
— Publishers Weekly (starred review)

"The stories in Monstress announce the debut of an electric literary talent. Brilliantly quirky, often moving, always gorgeously told, these are tales of big-hearted misfits who yearn for their authentic selves with extraordinary passion and grace. Bravo for this fabulous American fiction!"
— Chang-Rae Lee, NEW YORK TIMES bestselling author of NATIVE SPEAKER and THE SURRENDER

"Lysley Tenorio is a writer of sly wit and lively invention—these are stories bursting with wonders...but most wondrous of all is his intimate sense of character. Each story is a confession of love betrayed, told with a mournful, austere tenderness as heartbreaking as it is breathtaking."
— Peter Ho Davies, author of THE WELSH GIRL

Lysley Tenorio's darkly funny stories capture the contradictions and complexities of being both Filipino and a citizen of the world. Tenorio is a deep and original writer, and Monstress is simply a beautiful book.
— Jessica Hagedorn, author of DOGEATERS

"Tenorio is that rare breed of writer who mines gold from the impossible. He sees everything—the absurd and the tragic, the funny and profound—and delivers stories that are as true to life as any you will ever read."
— Ben Fountain, PEN/Hemingway award-winning author of BRIEF ENCOUNTERS WITH CHE GUEVARA

"In these fantastic stories, Tenorio skillfully blends the unlikely and the emotional, the bizarre and the humane. His writing portrays the universal human condition through unique specificity, and is very deserving of attention."
— Rishi Reddi, author of KARMA AND OTHER STORIES

"Lysley Tenorio's first book [is] better than I hoped: poignant, imaginative, somehow sad and funny all at once. Tenorio's characters walk tightropes strung between the Philippines and America, between illusions and reality, between family ties and the need to strike out alone. Monstress is a wonderful read. "
— Anthony Doerr, author of MEMORY WALL

"Tenorio's wit is understated; his writing is deft and self-assured; his dramas don't shout, but whisper, seductive and heartfelt. Monstress is one of the wisest and heartfelt collections I've read. I've waited a long time for this book."
— Daniel Orozco, author of ORIENTATION AND OTHER STORIES

"Monstress is an exhilarating rollercoaster of a book. Deeply funny, heartbreaking, hopeful, philosophical, bawdy, and wise, Tenorio's stories, written from the underbelly of the American Dream, present one brilliant portrait after another."
— Sabina Murray, PEN/Faulkner Award-winning author of THE CAPRICES and TALES OF THE NEW WORLD

"MONSTRESS, a debut collection of short stories by Lysley Tenorio, is a gift: a chance to understand what those Filipino émigrés might have been saying about their lives, loves, disappointments and sense of being the other…Don't expect happy endings, but do expect to be moved, dazzled and surprised."
— Washington Independent Review of Books

"[A] jittery, caffeinated, dazzling collection with a poignant center. The characters, straddling Filipino and American traditions, will charm you with their wit and devastate you with their loneliness. And in addition to being quirky and moving, the eight stories unfold beautifully in language that evokes…Junot Diaz."
— Slate