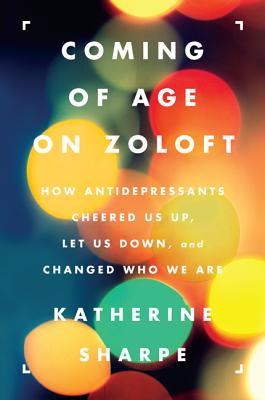 Coming of Age on Zoloft
How Antidepressants Cheered Us Up, Let Us Down, and Changed Who We Are
Paperback

* Individual store prices may vary.
Description
A compelling and troubling exploration of a generation raised on antidepressants, and a book that combines expansive interviews with substantive research-based reporting, Coming of Age on Zoloft is a vitally important and immediately engrossing study of one of America's most pressing and omnipresent issues: our growing reliance on prescription drugs. Katherine Sharpe, the former editor of Seed magazine's ScienceBlogs.com, addresses the questions that millions of young men and women are struggling with. "Where does my personality end and my prescription begin?" "Do I have a disease?" "Can I get better on my own?" Combining stout scientific acumen with first-person experience gained through her own struggle with antidepressants, Sharpe leads the reader through a complex subject, a guide towards a clearer future for all.

Praise For Coming of Age on Zoloft: How Antidepressants Cheered Us Up, Let Us Down, and Changed Who We Are…
"Intuitive and investigative, personal and historical, narrative-rich and fact-packed….Part of what makes this book riveting is the way Sharpe sets her own story within the larger context of cultural, social, and psychiatric changes that moved depression (along with other mental illnesses) into the medical spotlight."
— Elle

"Sharpe is excellent at detailing the positives and negatives of these drugs … But she is best at probing broader societal issues … This is a fine book that nicely weaves together personal, sociological, and philosophical perspectives for a thoughtful view of how antidepressants are shaping many people's lives."
— Publishers Weekly

"A knowing account of what it is like to grow up on psychiatric medications....Balanced and informative--an education for any parent considering psychiatric medication for a troubled adolescent."
— Kirkus Reviews

"Beautifully written. . . . This is a book for anyone taking or thinking about taking antidepressants, anyone who prescribes them, anyone who wonders about their suitability-or anyone who wants a mirror held up to our time."
— Dr. David Healy, author of Let Them Eat Prozac

"A fascinating look at how drugs and trends have shaped the identities of individuals and of a generation-provocative without being sensationalistic, skillfully written, and totally necessary."
— Emily Gould, author And the Heart Says Whatever
Harper Perennial, 9780062059734, 336pp.
Publication Date: June 5, 2012
About the Author
KATHERINE SHARPE's writing has appeared in n+1, GOOD, and Washington Post Magazine, among many other publications. She lives in Brooklyn, New York.