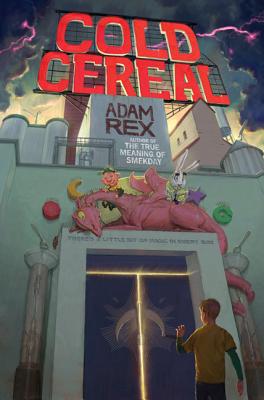 Cold Cereal (Cold Cereal Saga #1) (Hardcover)
Balzer + Bray, 9780062060020, 432pp.
Publication Date: February 7, 2012
* Individual store prices may vary.
Description
From author Adam Rex comes the first book in the Cold Cereal Saga—a hilarious, clever, and action-packed adventure series with an educational hook.
Scottish Play Doe—aka Scott—is used to being a little different. Sometimes he hallucinates things no one else can see. But then one of these hallucinations tries to steal Scott's backpack, and he comes face-to-face with an honest-to-goodness leprechaun named Mick who's on the run from, of all things, the Goodco Cereal Company. With the help of his friends Erno and Emily, Scott and Mick uncover Goodco's sinister plans—and take the first steps in saving the world from the evil cereal company.
Like the Artemis Fowl Series and the Percy Jackson and the Olympians Series, the Cold Cereal Saga takes elements of familiar mythology—in this case, Arthurian legend and Irish folklore—and reimagines it in the modern world with a cast of relatable characters and myriad magical beings. The story is told from multiple points of view, and there are dozens of illustrations—including "commercial breaks"—and stories within the story.
Supports the Common Core State Standards
About the Author
Adam Rex is the author of many books, including Cold Cereal and Unlucky Charms, the first two books in the Cold Cereal Saga; the New York Times bestselling picture books The Legend of Rock Paper Scissors and Frankenstein Makes a Sandwich; the middle grade novel The True Meaning of Smekday (now a major motion picture from Dreamworks, Home); and the teen novel Fat Vampire. He lives in Arizona with his wife.
Praise For Cold Cereal (Cold Cereal Saga #1)…
"Totally original and wholly brilliant. Adam Rex must be stopped."
— Eoin Colfer, bestselling author of the Artemis Fowl series

"With an off-the-wall sensibility that fans of the author's True Meaning of Smekday will recognize with delight, Rex brings together unconventional allies to be hunted by agents of the huge Goodco Cereal Company."
— Kirkus Reviews (starred review)

"Rex takes his magically delicious premise seriously, finding the thin line between absurdity and comedy, while giving this story more gravitas and depth than might be expected."
— Publishers Weekly

"The story is filled with wildly imaginative elements and clever wisecracks, but the humor is couched within a rich, complex plot that's filled with engaging characters and concepts. Readers who enjoy fantasies that are equal parts hilarious and exciting will eagerly await the next two in the series."
— School Library Journal (starred review)

"An expansive cast of colorful characters (including Merle Lynn, an accountant) keep the surprises coming. Reader interest and suspension of disbelief never flag in this humorous, consistently entertaining, well-spun yarn."
— The Horn Book

"Rex supports his centrifugal imagination with tight storytelling, effervescent characterization, and strong imagery and metaphor. . . . will leave readers anxious for the sequel."
— ALA Booklist

"The divinely demented Adam Rex strikes again! Cold Cereal is exciting, strange, and deliciously different. His deft mixing of myth with modernity is flat-out fabulous."
— Bruce Coville, author of My Teacher Is an Alien

"Warning—this book contains the following ingredients in dangerously high quantities: wild fantasy, dynamic action, great satire and silly jokes. It's as addictive as one of Goodco's sinister breakfast products—and a whole lot better for you. I loved it. Second helpings, please!"
— Jonathan Stroud, bestselling author of the Bartimaeus Trilogy