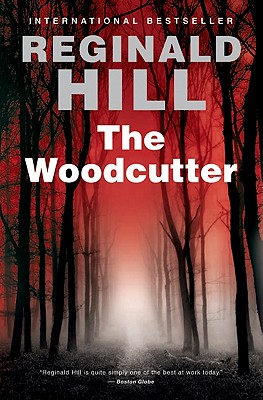 The Woodcutter (Hardcover)
HarperTorch, 9780062060747, 517pp.
Publication Date: August 2, 2011
Description
"Thefertility of Hill's imagination, the range of his power, the sheer quality ofhis literary style never ceases to delight." --Val McDermid, author of
Fever of the Bone
In a stand-alone psychological thrillerfrom acclaimed mystery master Reginald Hill, a mysterious ex-con returns to hisremote childhood home on a deadly hunt for revenge. Combining the chillingatmospheres of Thomas Harris's The Silence of the Lambs, the narrativeingenuity of P.D. James's The Private Patient, and the compellingcharacterizations of Hill's own Dalziel and Pascoeseries, Hill delivers a frightful, fast-paced study of suspense at its mostsinister in The Woodcutter.
Praise For The Woodcutter…
"Reginald Hill…turns a contemporary crime of greed into a timeless morality tale….Hill's storytelling is its own delight, a fun house of shifting timelines and multiple perspectives."
-New York Times Book Review on The Woodcutter

"Evokes the spirit of storytellers from Dumas and Dickens to Jeffery Deaver and Jeffrey Archer."
-Wall Street Journal on The Woodcutter

"Devilishly clever British crime writer….A nifty plotter who switches points of view and locales often enough to keep the tension on the upswing."
-Chicago Tribune on The Woodcutter

"Offers vivid characters, an intricately constructed but nimble narrative…and enough tasty crumbs of information to lure us deeper and deeper into a fairy tale that has gone horribly wrong."
-Richmond Times-Dispatch on The Woodcutter

"[A] tour de force."
-People magazine on The Woodcutter

"Sly, enchanting…[with] strong characters that complement the fast-paced, unpredictable plot."
-Publishers Weekly (starred review)

'There's nothing drab about this dark and compelling novel."
-Kirkus Reviews on The Woodcutter

"He's lost none of his sardonic wit, punch and complexity… The result is an epic, unbeatable mystery."
-Financial Times

"Another gem from the creator of Dalziel and Pascoe. Rich characterisation, sparkling dialogue and wry humour flavour the text. . . . Verdict: exquisite"
-Herald Sun (Australia)

"An outstanding novel of force and beauty."
-The Times (London)

"There is something of the fairytale about The Woodcutter, a big, fat mystery which has the enduring power of a myth. . . . The heights of the Dalziel & Pascoe series aside, Hill has never written a better book."
-The Evening Standard (London)

"Hill's plotting…is brilliant, the jokes first-rate, the prose supple: it's his humble awe at the power of the English language that enables him to be a minor master of it."
-Daily Telegraph (London)

"A consummate yarn spinner, Hill draws on myth and metaphor to embroider this tightly crafted tale."
-The Age (Melbourne)

"His storytelling is always bewitching, his turns of phrase wonderful. . . . The Woodcutter is as much literary as crime novel, but always a page turner."
-Keighley News (England)

"Reginald Hill's books are as good as crime fiction gets and this one is as good as he gets."
-Literary Review

"Hill combines an edgy tale of betrayal and revenge with the trappings of a modern-day fairy tale in this sly, enchanting stand-alone."
-Publishers Weekly
Advertisement