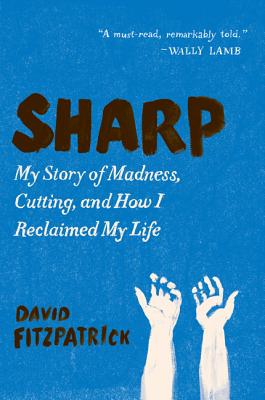 Sharp (Paperback)
My Story of Madness, Cutting, and How I Reclaimed My Life
William Morrow Paperbacks, 9780062064035, 368pp.
Publication Date: July 2, 2013
* Individual store prices may vary.
Description
David Fitzpatrick's Sharp is an extraordinary memoir—a fascinating, disturbing look into the mind of a man who, in his early 20s, began cutting himself due to a severe mental illness. A beautifully written treatment of a powerful subject, Fitzpatrick—whose symptoms included extreme depression and self-mutilation—writes movingly and honestly about his affliction and inspires readers with his courage, joining the literary ranks of Terri Cheney (Manic), Augusten Burroughs (Running with Scissors), Marya Hornbacher (Wasted), and Susanna Kaysen (Girl, Interrupted).
"A harrowing journey from self-destructive psychosis to a cautious re-emergence into the flickering sunshine of the sane world….Fitzpatrick writes about mental illness with the unsparing intensity of Sylvia Plath and Anne Sexton but also with the hard-won self-knowledge of William Styron, Kay Jamison, and other chroniclers of disease, recovery, and management…. A must read, remarkably told."
—Wally Lamb, author of I Know This Much is True
About the Author
David Fitzpatrick was born in Dearborn, Michigan, grew up in Connecticut, graduated from Skidmore College, and earned his MFA degree from Fairfield University in 2011. He works part-time at an auto dealership and is married to a graphic designer and fellow writer, Amy Holmes. His work has been published by The New Haven Review, Barely South Review, and Fiction Weekly. He lives in Middletown, Connecticut.
Praise For Sharp: My Story of Madness, Cutting, and How I Reclaimed My Life…
"David Fitzpatrick's Sharp is a must read, remarkably told."
— Wally Lamb

"Sharp is a courageously honest book by a gentle, damaged soul who fought his way to the light with a ferocity he never thought he possessed. Fitzpatrick's recounting of his struggle with severe mental illness shines with intelligence, pain and hard-won, self-confidence. "
— Kate Christensen, author of The Great Man and The Astral

"What makes this memoir so riveting and so unforgettable isn't the myriad of horrors that its narrator inflicts upon himself. It's the razor-sharp humor and abiding wisdom and depth of humanity with which its author graces the reader. Sharp cuts deep into your heart."
— Michael White, author of Beautiful Assassin and Soul Catcher

"Tortured and tormented as he was, Fitzpatrick never blinks as he recounts his residency in hell. Piercingly honest, he forces us to recognize and embrace the most broken parts of ourselves. Be forewarned: this book will expand your heart and mind."
— Rachel Basch, author of Degrees of Love and The Passion of Reverend Nash

"A mesmeric, dire memoir...a mission (thanks to Wally Lamb's encouragement) to write this dark, affecting, human story."
— Publishers Weekly
or
Not Currently Available for Direct Purchase