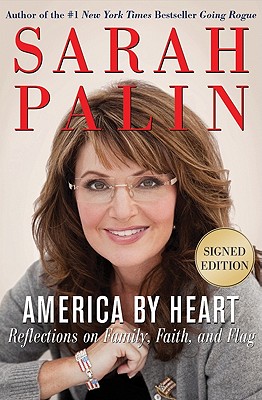 America by Heart signed edition: Reflections on Family, Faith, and Flag (Hardcover)
Reflections on Family, Faith, and Flag
Harper, 9780062064707, 304pp.
Publication Date: November 23, 2010
* Individual store prices may vary.
or
Not Currently Available for Direct Purchase
Description
**This limited-in-number, signed edition of Sarah Palin's America by Heart: Reflections on Family, Faith, and Flag features a signed tip-in page and removable sticker on the cover. The perfect holiday gift for any Sarah Palin fan.**
In the fall of 2009, with the publication of her #1 national bestselling memoir, Sarah Palin had the privilege of meeting thousands of everyday Americans on her extraordinary 35-city book tour. Inspired by these encounters, her new book, America By Heart: Reflections on Family, Faith, and Flag, celebrates the enduring strengths and virtues that have made this country great.
Framed by her strong belief in the importance of family, faith, and patriotism, the book ranges widely over American history, culture, and current affairs, and reflects on the key values—both national and spiritual-that have been such a profound part of Governor Palin's life and continue to inform her vision of America's future. Written in her own refreshingly candid voice, America By Heart will include selections from classic and contemporary readings that have moved her-from the nation's founding documents to great speeches, sermons, letters, literature and poetry, biography, and even some of her favorite songs and movies. Here, too, are portraits of some of the extraordinary men and women she admires and who embody her deep love of country, her strong rootedness in faith, and her profound love and appreciation of family. She will also draw from personal experience to amplify these timely (and timeless) themes—themes that are sure to inspire her numerous fans and readers all across the country.
Advertisement