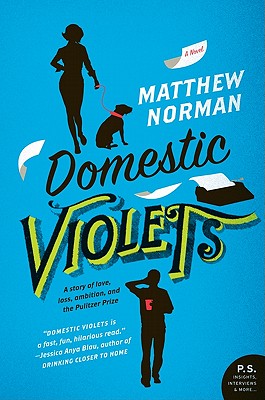 Domestic Violets
A Novel
Paperback

* Individual store prices may vary.
Other Editions of This Title:
Digital Audiobook (8/8/2011)
Description
"Hystericaland often touching. . . .
Domestic Violets
is a fast, fun, hilariousread." —Jessica Anya Blau, critically-acclaimed author of
The Summer of Naked Swim Parties
and
DrinkingCloser to Home
Inthe tradition of Jonathan Tropper and Tom Perrotta comes Matthew Norman's Domestic Violets—adarkly comic family drama about one man's improbable trials of love, loss, andambition; of attraction, impotence, and infidelity; and of mid-life malaise,poorly-planned revenge, and the Pulitzer Prize for Fiction.
Praise For Domestic Violets: A Novel…
"Norman controls his complicated story and handles its chaos and plot twists with a steady, funny hand.... this is a thoroughly entertaining, light but thoughtful read." — Publishers Weekly
"Domestic Violets is a fast, fun, hilarious read." — Jessica Anya Blau, critically-acclaimed author of The Summer of Naked Swim Parties and Drinking Closer to Home
"Domestic Violets is a wonderfully readable, riotous story... told with humor and surprising intimacy. " — Susan Richards Shreve, author of A Student of Living Things
"Reminiscent of Richard Russo's earlier work, Norman's refreshingly witty style is perfectly suited to articulating the trials of a middle-aged cynic. Wonderfully fast-paced, hilariously genuine, difficult to put down, Domestic Violets is an ideal first novel." — Booklist
"Matthew Norman has written a dastardly fun satire of contemporary domestic life [with} surprising twists on all the old conventions and a fresh perspective on a literary foundation that hearkens back to Philip Roth, John Updike and John Cheever. An astoundingly good read!" — Joshua Gaylord, author of Hummingbirds
"Norman's debut novel is funny and incisive, and hard on sacred cows." — Shelf Awareness
"so real, so funny" — Susan K. Perry, Ph.D. at Psychology Today
"Timing, so important in comedy, is also exacting in Mr. Norman's expert hands...Domestic Violets leaves the reader satisfied by the intriguing plot written in a comic spirit; it also endears the author and hero to the reader for maximum poignancy." — New York Journal of Books
"All this misery makes for good comedy … charmingly drawn …" — Washington Post on DOMESTIC VIOLETS
"Norman's hilarious debut novel is a tale of a man's middle-age quest to differentiate himself from his father and decide what's worth changing and what's worth keeping in his life." — Washington Independent Review of Books on DOMESTIC VIOLETS
Harper Perennial, 9780062065117, 352pp.
Publication Date: August 9, 2011
About the Author
Matthew Norman is an advertising copywriter. He lives with his wife and daughter in Baltimore. Domestic Violets is his first novel.
The book begins with a detailed look at Tom and Anna's failings in the bedroom. How did you react to this, and what function does this serve in the novel as a whole?
Throughout the book, Tom spends a lot of time talking about the trappings of being the son of a famous writer. Ultimately though, has having Curtis as a father helped or hindered him? How so?
Tom's mom, Maryanne, says, "A family can only support one writer. It's as simple as that?" What does she mean by this? Is she right?
Technically speaking, the Violets are a broken family. But are they ultimately a loving one? Discuss Curtis and Maryanne. They never appear together in the novel, but their relationship is crucial to its resolution. What's your reaction to this?
Discuss the role of parenting in the book. Which characters are "good" and "bad" parents?
There are many pop culture references in Domestic Violets. What do they reveal about the characters in the book?
The concept of a "work spouse" is a fairly new phenomenon in offices today. Are they healthy? Are they ever truly "innocent?"
Discuss Tom's feelings for Katie. Are they genuine, or does she simply represent something that Tom knows he'll never have again? How does this compare to Curtis' feelings for the many women in his life?
Domestic Violets takes aim at Corporate America, the publishing industry, and, to a lesser extent, academia. Which of the three comes off worse in the novel? And, is the author's criticism fair?
Tom's arch nemesis, Gregory, is a constant source of angst in Tom's life. Does Gregory really hate Tom as much as Tom thinks he does? Have you ever had a nemesis—real or imagined?
There are a lot of secrets in Tom and Anna's relationship, and even in the end, much is left unsaid. How do these secrets affect Tom and Anna's marriage, and how do secrets affect relationships in general? How much do you think Anna knows about Katie?
What's your reaction to the end of the story? Is it believable? Is it satisfying? If you were Tom, would you have done what he did? What if you were Curtis?