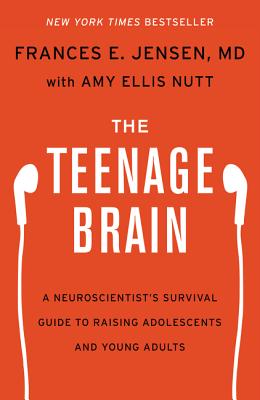 The Teenage Brain
A Neuroscientist's Survival Guide to Raising Adolescents and Young Adults
Hardcover

* Individual store prices may vary.
Other Editions of This Title:
Digital Audiobook (1/5/2015)
Digital Audiobook (2/2/2015)
Paperback (1/26/2016)
Description
A New York Times Bestseller
Renowned neurologist Dr. Frances E. Jensen offers a revolutionary look at the brains of teenagers, dispelling myths and offering practical advice for teens, parents and teachers.
Dr. Frances E. Jensen is chair of the department of neurology in the Perelman School of Medicine at the University of Pennsylvania. As a mother, teacher, researcher, clinician, and frequent lecturer to parents and teens, she is in a unique position to explain to readers the workings of the teen brain. In The Teenage Brain, Dr. Jensen brings to readers the astonishing findings that previously remained buried in academic journals.
The root myth scientists believed for years was that the adolescent brain was essentially an adult one, only with fewer miles on it. Over the last decade, however, the scientific community has learned that the teen years encompass vitally important stages of brain development.  Samples of some of the most recent findings include:
Teens are better learners than adults because their brain cells more readily "build" memories. But this heightened adaptability can be hijacked by addiction, and the adolescent brain can become addicted more strongly and for a longer duration than the adult brain.
Studies show that girls' brains are a full two years more mature than boys' brains in the mid-teens, possibly explaining differences seen in the classroom and in social behavior.
Adolescents may not be as resilient to the effects of drugs as we thought. Recent experimental and human studies show that the occasional use of marijuana, for instance, can cause lingering memory problems even days after smoking, and that long-term use of pot impacts later adulthood IQ.
Multi-tasking causes divided attention and has been shown to reduce learning ability in the teenage brain. Multi-tasking also has some addictive qualities, which may result in habitual short attention in teenagers.
Emotionally stressful situations may impact the adolescent more than it would affect the adult: stress can have permanent effects on mental health and can to lead to higher risk of developing neuropsychiatric disorders such as depression.
Dr. Jensen gathers what we've discovered about adolescent brain function, wiring, and capacity and explains the science in the contexts of everyday learning and multitasking, stress and memory, sleep, addiction, and decision-making.  In this groundbreaking yet accessible book, these findings also yield practical suggestions that will help adults and teenagers negotiate the mysterious world of adolescent development.
Praise For The Teenage Brain: A Neuroscientist's Survival Guide to Raising Adolescents and Young Adults…
"At moments of extreme exasperation, parents may think that there's something wrong with their teenagers' brains. Which, according to recent books on adolescence, there is…. [Jensen] offers a parenting guide laced with the latest MRI studies…. Packed with charts and statistics."
— Elizabeth Kolbert, The New Yorker

"It's charming to see good science translate directly into good parenting."
— New York Times Book Review

"Frances Jensen, a neuroscientist and single mother of two boys. . . delved into the emerging science of the adolescent brain [and] came out with provocative new insights for parents, educators, public policymakers and teens themselves."
— Washington Post

"Why's your child so self-absorbed? Give him time, writes neurologist Jensen: Empathy comes with age."
— Good Housekeeping

"Meticulously documented and reported, the studies offer proof that it's not just parents who think their teenagers don't quite have it all together."
— Kirkus Reviews

"A captivating chapter, 'The Digital Invasion of the Teenage Brain,' calls attention to computer craving and adolescent addiction to the Internet.… [A] sensible, scientific, and stimulating book."
— Booklist

"Recommended for readers who enjoyed Laurence Steinberg's Age of Opportunity."
— Library Journal (starred review)

"A valuable resource for parents, youth workers, educators, and anyone involved with teens in any way. The book is engaging, understandable, and extremely informative."
— New York Journal of Books

"Marvelous…. Dr. Jensen uses her considerable expertise as a neuroscientist and a mother to explain the recent explosion of adolescent brain research and how this research can help us better understand and help young people."
— Carol A. Ford, M.D. President, Society for Adolescent Health and Medicine; Professor of Pediatrics, University of Pennsylvania; and Chief, Division of Adolescent Medicine at the Children's Hospital of Philadelphia.

"Frances Jensen has brilliantly translated academic science and clinical studies…. A 'must read' for parents, teachers, school nurses, and many others who live with or interact with teens."
— S. Jean Emans, MD. Chief, Division of Adolescent/Young Adult Medicine, Boston Children's Hospital; Professor of Pediatrics, Harvard Medical School

"This well-written, accessible work surveys recent research into the adolescent brain.…Chapter by chapter, Jensen covers essential topics….Speaking as one parent to another, she offers support and a way for parents to understand and relate."
— Publishers Weekly
Harper, 9780062067845, 384pp.
Publication Date: January 6, 2015
About the Author
Frances E. Jensen, MD, is Professor and Chair of the Department of Neurology at the Perelman School of Medicine, University of Pennsylvania. She was Professor of Neurology at Harvard Medical School, Director of Translational Neuroscience and Director of Epilepsy Research at Boston Children's Hospital, and Senior Neurologist at Boston Children's and Brigham and Women's Hospitals. She lectures widely about the teen brain at science museums, TEDMED, and high schools.
Amy Ellis Nutt is a science journalist at the Washington Post and the recipient of a Pulitzer Prize in feature writing. Her most recent book is Becoming Nicole: The Transformation of an American Family.
Coverage from NPR
or
Not Currently Available for Direct Purchase