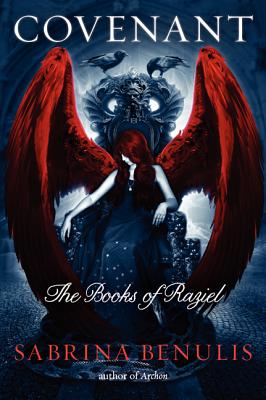 Covenant
The Books of Raziel
Paperback

* Individual store prices may vary.
Description
The haunting gothic tale started in Archon continues-a mesmerizing work of the paranormal in which a young woman discovers that she is caught in a labyrinth of intrigue where angels, demons, and all the creatures between Heaven and Hell will stop at nothing to possess her.
A year ago, Angela Mathers, a talented artist with a tortured soul, enrolled at the Westwood Academy and encountered the angels who haunted her dreams. Then she discovered the dark truth … she is the Archon, a being of supreme power who will determine the fate of the universe. But with such power comes great danger, and for every force seeking to aid Angela there is another burning to stop her. After a scheming demon kidnaps the Book of Raziel, Angela must find her way through a nightmarish game and enter the Door to Hell to rescue her only friend before it is too late.
The perilous fate of both Heaven and Hell rests on her success.
Praise For Covenant: The Books of Raziel…
"With the first installment in her trilogy, Benulis uses lush descriptions and larger than life characters to tell the story of a battle between Heaven and Hell… I will definitely be on the lookout for the next installment in her book of Raziel series."
— Suspense Magazine

"This plot is original in every way, and it resembles nothing that I have ever read before."
— The Beacon (Wilkes University)

"These angels can be vindictive and cruel, more human than you might expect and oozing supernatural abilities…. If you think you have the guts to take on this novel pick it up."
— Boulder Examiner

"In this fascinating, well written first novel, Sabrina Benulis has created a world where it's hard to tell the demons and angels apart. Be prepared to read this one in one sitting because it's one of those rare novels that grabs you and doesn't let go."
— The Baryon Review

"Forget what you think you know and allow the book to show you a new vision of angels and demons. It's a terrifying one, but extremely interesting."
— Sci-Fi Fan Letter

"Even when I wasn't reading, I felt a little like I had one foot in the book and the other in reality."
— Literary Feline

"Angela is someone I would want to be friends with, someone I would want to have in my corner. She's out of her mind, a little, but honestly – who isn't?"
— Fictional Distraction

"A dark, bold story."
— Lexington Literature Examiner
Harper Voyager, 9780062069412, 400pp.
Publication Date: April 1, 2014
About the Author
Sabrina Benulis lives in the Pocono mountains of Pennsylvania with her husband, daughter, and a spoiled but sweet cockatiel. When she isn't writing or cooking up another story to tell, she's learning to be Supermom. She is the author of the Books of Raziel trilogy.