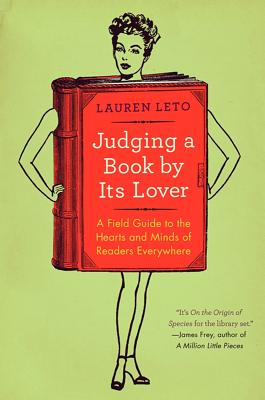 Judging a Book by Its Lover (Paperback)
A Field Guide to the Hearts and Minds of Readers Everywhere
Harper Perennial, 9780062070142, 288pp.
Publication Date: October 2, 2012
* Individual store prices may vary.
Description
"Leto is as funny as she is well-read; a delight for bibliophiles and wannabes alike."
—Wylie Overstreet, author of The History of the World According to Facebook
Lauren Leto, humor blogger and co-author of Texts from Last Night, now offers a fascinating field guide to the hearts and minds of readers everywhere. Judging a Book by Its Lover is like a literary Sh*t My Dad Says—an unrelentingly witty and delightfully irreverent guide to the intricate world of passionate literary debate, at once skewering and celebrating great writers, from Dostoevsky to Ayn Rand to Jonathan Franzen, and all the people who read them. This provocative, smart, and addictively funny tome arose out of Leto's popular "book porn" blog posts, and it will delight and outrage literature fans, readers of  Stuff White People Like and I Judge You When You Use Poor Grammar—people obsessed with literary culture and people fed up with literary culture—in equal measure.

About the Author
Lauren Leto dropped out of law school to start the popular humor blog "Texts from Last Night." She co-authored the book Texts from Last Night: All the Texts No One Remembers Sending. She lives in Brooklyn.
Praise For Judging a Book by Its Lover: A Field Guide to the Hearts and Minds of Readers Everywhere…
"If CliffsNotes had an opinion and a couple of drinks under their belts, they'd sound like Lauren Leto."
— Omnivoracious.com

"It's On the Origin of Species for the library set."
— James Frey, author of A Million Little Pieces

"In terms of allowing me to sound smart at cocktail parties, this book surpassed my English degree by page twelve."
— Christian Lander, author of Stuff White People Like

"Leto is as funny as she is well-read; a delight for bibliophiles and wannabes alike."
— Wylie Overstreet, author of The History of the World According to Facebook