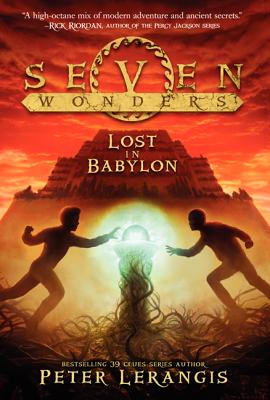 Seven Wonders Book 2 (Hardcover)
Lost in Babylon
HarperCollins, 9780062070432, 384pp.
Publication Date: October 29, 2013
* Individual store prices may vary.
Description
Percy Jackson meets Indiana Jones in the New York Times bestselling epic adventure Seven Wonders! Lost in Babylon is the second book in a seven-book series by master storyteller Peter Lerangis. This sequel to the bestselling The Colossus Rises chronicles Jack McKinley and his friends as they carry on their mission to save their lives—and the world—by locating seven magic orbs called Loculi, which are hidden in the Seven Wonders of the Ancient World. After defeating the Colossus of Rhodes and capturing the first of the Loculi, their friend Marco has disappeared. With no leads, no clues, and no one else to turn to, the kids have no choice but to trust Professor Bhegad and the Karai Institute again as they head off to Babylon.
Rick Riordan, author of the Percy Jackson series, praised Seven Wonders Book 1: The Colossus Rises as "a high-octane mix of modern adventure and ancient secrets. Young readers will love this story. I can't wait to see what's next in the Seven Wonders series!"
About the Author
Peter Lerangis is the author of more than one hundred and sixty books, which have sold more than five and half million copies and been translated into thirty-three different languages. These include the first four books in the New York Times bestselling Seven Wonders series, The Colossus Rises, Lost in Babylon, The Tomb of Shadows, and The Curse of the King, and two books in the 39 Clues series. Peter is a Harvard graduate with a degree in biochemistry. He has run a marathon and gone rock climbing during an earthquake—though not on the same day. He lives in New York City with his wife, musician Tina deVaron, and their two sons, Nick and Joe. In his spare time, he likes to eat chocolate.