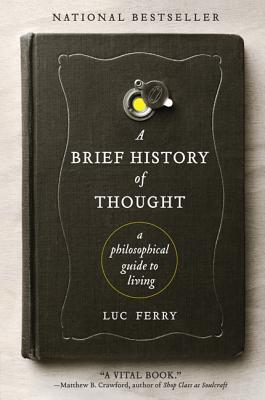 A Brief History of Thought: A Philosophical Guide to Living (Paperback)
A Philosophical Guide to Living
Harper Perennial, 9780062074249, 304pp.
Publication Date: December 27, 2011
Description
NATIONAL BESTSELLEREight months on the bestseller lists in France From the timeless wisdom of the ancient Greeks to Christianity, the Enlightenment, existentialism, and postmodernism, Luc Ferry's instant classic brilliantly and accessibly explains the enduring teachings of philosophy--including its profound relevance to modern daily life and its essential role in achieving happiness and living a meaningful life. This lively journey through the great thinkers will enlighten every reader, young and old.

Praise For A Brief History of Thought: A Philosophical Guide to Living…
"For everyone from the man in the street to the man in the Acropolis--A fine introduction to philosophy and its fundamental relevance to living a meaningful life."
-THOMAS CATHCART and DANIEL KLEIN, New York Times bestselling authors of Plato and a Platypus Walk into a Bar

"This is a vital book. Luc Ferry rehabilitates the ancient question, 'What is the best way of life?' as though our lives depended on it. ... The reader will find her own experience clarified, and her horizon enlarged."
-MATTHEW B. CRAWFORD, New York Times bestselling author of Shop Class as Soulcraft

"A philosophical survival kit, in which the reader will find brilliant ideas to help them think better and live better."
-L'EXPRESS

"This superb primer proves that philosophy belongs at the center of life."
-PUBLISHERS WEEKLY (starred review)

"No dry academic, Ferry restores to philosophy a compelling urgency."
-Booklist (starred review)

"One of the best books that has come across my desk over the last year. … Readers who don't know much about philosophy will find this book accessible; and those who do will find its approach fresh and stimulating."
-First Things

"An engaging, accessible work... strong evidence for an important conception of philosophy's enduring relevance."
-Journal of French and Francophone Philosophy

"Lucid and accessible … Ferry defends human dignity against post-modern doubt … a serious thinker"
-ROBERT ROYAL, First Things
Advertisement