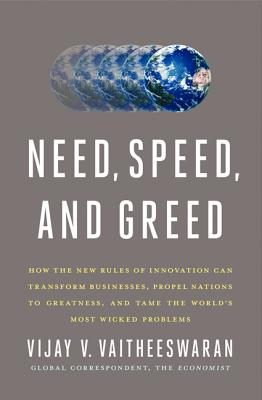 Need, Speed, and Greed
How the New Rules of Innovation Can Transform Businesses, Propel Nations to Greatness, and Tame the World's Most Wicked Problems
Hardcover

* Individual store prices may vary.
Description
World-renowned economist Vijay V. Vaitheeswaran provides a deeply insightful, brilliantly informed guide to the innovation revolution now transforming the world. With echoes of Clayton Christensen's The Innovator's Dilemma, Tim Brown's Change by Design, and Jared Diamond's Guns, Germs, and Steel, Vaitheeswaran's Need, Speed, and Greed introduces readers to the go-getters, imagineers, and visionaries now reshaping the global economy. Along the way, Vaitheeswaran teaches readers the skills they must develop to unleash their own inner innovator and reveals why America and other wealthy, privileged societies must embrace a path of inclusive growth and sustainability—or risk being left behind by history.

Praise For Need, Speed, and Greed: How the New Rules of Innovation Can Transform Businesses, Propel Nations to Greatness, and Tame the World's Most Wicked Problems…
"Need, Speed, and Greed is an absorbing and deeply insightful guide to the wild new landscape of global innovation. It is a must-read for strategists and entrepreneurs alike.
— Paul Saffo, Managing Director of Foresight at Discen Analytics

"A great Atlas for worlds known and unknown"
— Juan Enriquez, Managing Director of Excel Venture Management, author of Homo Evolutis and As the Future Catches You

"The perfect primer for the postindustrial age….an insightful assessment of the changing global economy, complete with recommendations for how companies can thrive in a perpetually disruptive environment….[An] exemplary narrative."
— Kirkus Reviews
Harper Business, 9780062075994, 304pp.
Publication Date: March 13, 2012
About the Author
Vijay V. Vaitheeswaran is an award-winning global correspondent for the <i>Economist</i>. He is a member of the Council on Foreign Relations, an adviser to the World Economic Forum, and an adjunct faculty member at NYU's Stern School of Business. He is also the author of Zoom: The Global Race to Fuel the Car of the Future (co-authored with Iain Carson), and Power to the People: How the Coming Energy Revolution Will Transform an Industry, Change Our Lives, and Maybe Even Save the Planet. His op-eds have appeared in the New York Times and the Wall Street Journal, and he is a regular guest on NPR's Marketplace, PBS's NewsHour, ABC's Nightline, and other leading programs.
or
Not Currently Available for Direct Purchase