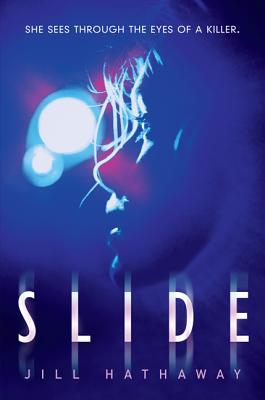 Slide (Hardcover)
Balzer + Bray, 9780062077905, 256pp.
Publication Date: March 27, 2012
Other Editions of This Title:
Paperback (2/26/2013)
Paperback (3/1/2012)
* Individual store prices may vary.
Description
Vee Bell is certain of one irrefutable truth—her sister's friend Sophie didn't kill herself. She was murdered.
Vee knows this because she was there. Everyone believes Vee is narcoleptic, but she doesn't actually fall asleep during these episodes: When she passes out, she slides into somebody else's mind and experiences the world through that person's eyes. She's slid into her sister as she cheated on a math test, into a teacher sneaking a drink before class. She learned the worst about a supposed "friend" when she slid into her during a school dance. But nothing could have prepared Vee for what happens one October night when she slides into the mind of someone holding a bloody knife, standing over Sophie's slashed body.
Vee desperately wishes she could share her secret, but who would believe her? It sounds so crazy that she can't bring herself to tell her best friend, Rollins, let alone the police. Even if she could confide in Rollins, he has been acting distant lately, especially now that she's been spending more time with Zane.
Enmeshed in a terrifying web of secrets, lies, and danger and with no one to turn to, Vee must find a way to unmask the killer before he or she strikes again.
About the Author
Jill Hathaway grew up in Iowa and received her MA in literature from Iowa State University. She is also the author of Slide, the first book about Vee Bell. A high school English teacher, Jill lives with her husband and children in the Des Moines area.
Praise For Slide…
"Jill Hathaway provides a fresh, vibrant voice to young adult literature. Skillfully filled with drama and tension, Slide is part mystery, part romance, and wholly engaging with its strong heroine and tornado-worthy twists. I simply could not put this book down."
— Laurie Stolarz, bestselling author of BLUE IS FOR NIGHTMARES and the DEADLY LITTLE LIES series

"Heartbreaking and heart-pounding at the same time! A wonderful, intense story, Slide had me hooked from the first moment Vee slid into someone else's mind."
— Cynthia Hand, author of Unearthly

"Hathaway guides readers through family turmoil, integrating it well with her murder mystery. . . . An intriguing whodunit."
— Kirkus Reviews

"Slide consumed me! Intense and powerful. A mystery filled with romance and raw emotion. Slide is one of those extraordinary reads that stays with you long after you close the book."
— Sophie Jordan, author of Firelight

"Hathaway debuts with a gripping paranormal thriller that takes the concept of 'empathy' to a new level. . . . An emotionally taut mystery with depth."
— Publishers Weekly (starred review)

"Its innovative premise is memorable."
— School Library Journal

"Teenage drama meets Quantum Leap in this exciting debut about secrets and murder. [D]ifficult to put down."
— Booklist
or
Not Currently Available for Direct Purchase