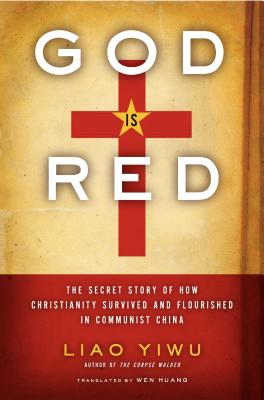 God Is Red (Hardcover)
The Secret Story of How Christianity Survived and Flourished in Communist China
HarperOne, 9780062078469, 256pp.
Publication Date: September 1, 2011
Other Editions of This Title:
Paperback (9/4/2012)
* Individual store prices may vary.
Description
In God is Red, Chinese dissident journalist and poet Liao Yiwu--once lauded, later imprisoned, and now celebrated author of For a Song and a Hundred Songs and The Corpse Walker--profiles the extraordinary lives of dozens of Chinese Christians, providing a rare glimpse into the underground world of belief that is taking hold within the officially atheistic state of Communist China. Liao felt a kinship with Chinese Christians in their unwavering commitment to the freedom of expression and to finding meaning in a tumultuous society, even though he is not a Christian himself. This is a fascinating tale of otherwise unknown personalities thriving against all odds. God is Red will resonate with readers of Phillip Jenkins' The Lost History of Christianity and Peter Hessler's Country Driving.
Praise For God Is Red: The Secret Story of How Christianity Survived and Flourished in Communist China…
"Liao's coverage of Christians allows truth to shine in the darkness. That's the beauty of his writings."
-Liu Xiaobo, 2010 Nobel Peace Prize winner

"There is the authorized version of life in China propagated by the Communist Party, and then there is the unauthorized version. Liao Yiwu is one of the foremost authors of the latter, for which he has paid a steep price."
-Wall Street Journal

"God Is Red is the most wonderfully surprising report on the church in China I've seen, and Liao Yiwu is the best literary guide since Vergil."
-John Wilson, Editor, Books & Culture

"A subtle and sober account by one of the foremost banned writers of contemporary China. An irresistible read, pulsating with humanity."
-Lian Xi, author of Redeemed by Fire: The Rise of Popular Christianity in Modern China

"It is very difficult to read Liao Yiwu's work without being constantly reminded of Christian struggles in the ancient Roman Empire. . . . Who can tell how the story will play out this time round?"
-Philip Jenkins, author of Jesus Wars

"Beginning with a 100-year-old nun and ending with a recovering slacker, . . . the voices of individual believers are lively and immediate. . . . Though Liao's subjects claim to have no interest in politics, the question of political change in China is the subtext ."
-Wall Street Journal

"This is a mesmerizing and amazing tale of courage. Author Liao Yiwu's story, covering even the recent past, is especially powerful because he is not himself a Christian. The reporting is brilliant and the perspective dazzling."
-David Aikman, author of Jesus in Beijing

"The author, himself an object of intermittent government harassment, is a deft interviewer. Not a believer himself, Liao empathizes with the Christians he encounters. These portraits of faithful Christians are beautifully drawn, neither triumphalist nor maudlin. Suffering, but also resilience and hope, are the common lot of these believers."
-Daniel Bays, author of Christianity in China

"The heartbreaking tales of persecution and spiritual fervor speak for themselves."
-Kirkus Reviews

"No writer does better than Liao Yiwu in revealing the texture of daily life for ordinary people in China. His characters walk off the page and into your heart. . . . Humanity oozes from every vignette, and every detail rings true."
-Perry Link, Professor emeritus, East Asian Studies, Princeton University

"A leading Chinese writer [provides] an insider's look at the surging interest in Christianity within the world's most populous nation . . . a journalistic chronicle of how Christians survived the repressive Mao era as well as a glimpse into why their numbers are rising."
-Christian Science Monitor

"Every so often, you come across a narrative of courage under suffering that is so well reported, so restrained and sensitive in its intelligence, that you are momentarily altered by the experience. . . . God Is Red is a powerful account of Chinese Christians' perseverance."
-Christianity Today

"If you want to read one book that sums up the glory of the Christian witness under persecution and the tragic 20th-century story of China's Christians, read God Is Red. Brilliant and immensely moving, it will, if anything can, inject new backbone into your own Christian life."
-Christianity Today

"It is a story of faith and determination in the midst of poverty and persecution. … A book like this will open your eyes to the amazing freedom and blessings we enjoy in this country. It should bring into focus what really matters."
-RedState

"There are incredible tales of perseverance during times of intense persecution. . . . In these interviews, a picture of the resilience and elasticity of Christianity in China emerges, and it becomes clear that Christianity remains a powerful force for the poor in China."
-Los Angeles Review of Books

"God Is Red offers a deeply impressive series of vignettes of the Christian experience [in China], including unforgettable stories of individuals' courage in the face of excruciating suffering. The book is at once heartbreaking and profoundly stirring."
-Christian Century
or
Not Currently Available for Direct Purchase