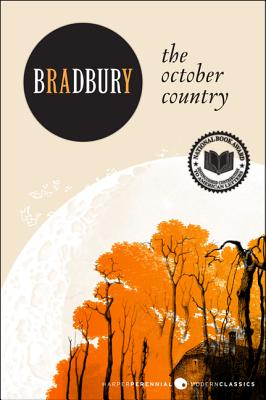 The October Country (Paperback)
Harper Perennial Modern Classics, 9780062079961, 352pp.
Publication Date: October 11, 2011
Other Editions of This Title:
Mass Market (4/12/1985)
Hardcover (9/7/1999)
* Individual store prices may vary.
Description
" . . . that country where it is always turning late in theyear. That country where the hills are fog and the rivers are mist; where noons go quickly, dusks and twilights linger, and midnightsstay . . . "
Explore the outer limits of the imagination with the GrandMaster of American Literature, Ray Bradbury, in a dark and disquieting descentinto The October Country. Readers of The Martian Chronicles and TheIllustrated Man, as well as fans of H. P. Lovecraft, Rod Serling, Bram Stoker, Stephen King,and writers of other classic horror stories, will be captivated by TheOctober Country's nineteen astonishing tales. From drowned cities tofrantic carnivals to forgotten Mexican villages, Bradbury offers anunforgettable journey into mystery, shining brief lights upon the darkestcorners of the soul.

About the Author
In a career spanning more than seventy years, Ray Bradbury, who died on June 5, 2011 at the age of 91, inspired generations of readers to dream, think, and create. A prolific author of hundreds of short stories and close to fifty books, as well as numerous poems, essays, operas, plays, teleplays, and screenplays, Bradbury was one of the most celebrated writers of our time. His groundbreaking works include Fahrenheit 451, The Martian Chronicles, The Illustrated Man, Dandelion Wine, and Something Wicked This Way Comes. He wrote the screen play for John Huston's classic film adaptation of Moby Dick, and was nominated for an Academy Award. He adapted sixty-five of his stories for television's The Ray Bradbury Theater, and won an Emmy for his teleplay of The Halloween Tree. He was the recipient of the 2000 National Book Foundation Medal for Distinguished Contribution to American Letters, the 2004 National Medal of Arts, and the 2007 Pulitzer Prize Special Citation, among many honors.
Throughout his life, Bradbury liked to recount the story of meeting a carnival magician, Mr. Electrico, in 1932. At the end of his performance Electrico reached out to the twelve-year-old Bradbury, touched the boy with his sword, and commanded, "Live forever!" Bradbury later said, "I decided that was the greatest idea I had ever heard. I started writing every day. I never stopped."
or
Not Currently Available for Direct Purchase