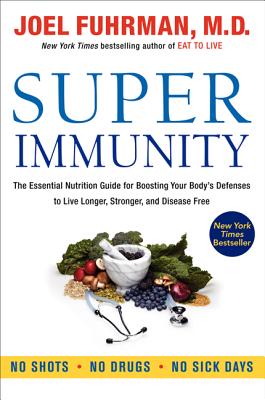 Super Immunity
The Essential Nutrition Guide for Boosting Your Body's Defenses to Live Longer, Stronger, and Disease Free (Eat for Life)
Paperback

* Individual store prices may vary.
Other Editions of This Title:
Digital Audiobook (9/19/2011)
Hardcover (9/20/2011)
Description
From world-renowned health expert and New York Times bestselling author of Eat to Live and Eat for Life Dr. Joel Fuhrman comes a practical nutritional plan to prevent and reverse disease—no shots, drugs or sick days required.
 Why do some of us get sick with greater frequency than others? What makes us more susceptible to illness? Is there a secret to staying healthy? Dr. Fuhrman doesn't believe the secret to staying healthy lies in medical care—rather, the solution is to change the way we eat.
 With more than 85 plant-based recipes, a two-week menu plan, and lists of super foods that boost immunity, Dr. Fuhrman's proven strategies in Super Immunity combine the latest data from clinical tests, nutritional research, and results from thousands of patients .
Inside Super Immunity, you'll find:
Praise For Super Immunity: The Essential Nutrition Guide for Boosting Your Body's Defenses to Live Longer, Stronger, and Disease Free (Eat for Life)…
"This book proves that eating high nutrient dense foods is the best path to building a super immune system, leading to a healthy long life with a "sound mind" and the recipes are superb." — Dr. Rudy Kachmann, Neurosurgeon, Kachmann Mind Body Institute
"Super Immunity should be the book everyone is talking about. I encourage you to buy it, read it, and apply it so you can join the conversation on true health." — Wayne S. Dysinger, MD, MPH, Chair, Department of Preventive Medicine, Loma Linda University President, American College of Lifestyle Medicine
"Super Immunity is a much needed book that contains the key to ending the cycle of sickness that plagues many of our lives. This is enlightened medicine, at last!" — Dr. Alejandro Junger, New York Times bestselling author of CLEAN
"Super Immunity"is a fantastic read that scientifically explains the origins of Western disease and lays out viable solutions to our unhealthy lifestyles. I will definitely be recommending this book to my patients!" — Garth Davis MD Star of TLC's "Big Medicine", Medical Director of Bariatric Surgery at Memorial City Hospital, Houston, Texas
"When it comes to diet and health, the scientific evidence shows that one size really fits all. Super Immunity offers everybody the most sensible, most effective dietary approach to become and stay truly healthy." — James Craner, MD, MPH, FACOEM, FACP Occupational & Environmental Medicine, Reno, NV Assistant Clinical Professor, University of California San Francisco School of Medicine
"Super Immunity expertly yet succinctly combines the latest nutrition and scientific research, plus a handful of anecdotes from Fuhrman's patients, into 170 pages of air-tight, irrefutable advice on how to get and stay healthy, even in an increasingly toxic and processed world." — VegNews Magazine
HarperOne, 9780062080646, 304pp.
Publication Date: December 31, 2013
About the Author
JOEL FUHRMAN, M.D. is an internationally recognized expert on nutrition and natural healing, a board-certified family physician, President of the Nutritional Research Foundation, and a #1 New York Times bestselling author. Dr. Fuhrman has appeared on hundreds of radio and television shows, including his own  successful PBS specials, which have raised millions for public broadcasting stations.

Dr. Fuhrman is the author of six New York Times best-sellers: Eat to Live (Little Brown, 2003); Super Immunity (HarperOne, 2012); The End of Diabetes (HarperOne, 2013); The Eat to Live Cookbook (HarperOne, 2013); The End of Dieting (HarperOne, 2014) and The End of Heart Disease (HarperOne, 2016).

In addition to his New York Times best-sellers, Dr. Fuhrman has written several other popular books, which include: Fast Food Genocide (HarperOne, 2017); Eat to Live Quick & Easy Cookbook (HarperOne, 2017); Eat for Health (Gift of Health Press), Disease Proof Your Child (St. Martin's Griffin), Fasting and Eating for Health (St. Martin's Griffin) and the Dr. Fuhrman's Nutritarian Handbook and ANDI Food Scoring Guide (Gift of Health Press).