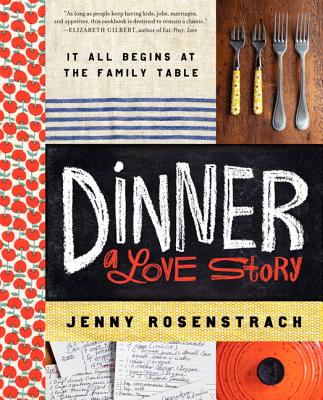 Dinner (Hardcover)
A Love Story: It all begins at the family table
Ecco, 9780062080905, 336pp.
Publication Date: June 5, 2012
* Individual store prices may vary.
Description
Inspired by her beloved blog, dinneralovestory.com, Jenny Rosenstrach's Dinner: A Love Story is many wonderful things: a memoir, a love story, a practical how-to guide for strengthening family bonds by making the most of dinnertime, and a compendium of magnificent, palate-pleasing recipes.
Fans of "Pioneer Woman" Ree Drummond, Jessica Seinfeld, Amanda Hesser, Real Simple, and former readers of Cookie magazine will revel in these delectable dishes, and in the unforgettable story of Jenny's transformation from enthusiastic kitchen novice to family dinnertime doyenne.
About the Author
Jenny Rosenstrach is the creator of Dinner: A Love Story, a website devoted to family dinner, and a contributor at Bon Appétit magazine.
Praise For Dinner: A Love Story: It all begins at the family table…
"Jenny Rosenstrach writes about food and family with such a marvelous spirit of warmth, friendship and-most importantly-pragmatism that you simply can't help but fall in love with her. As long as people keep having kids, jobs, marriages and appetites, this cookbook is destined to remain a classic."
— Elizabeth Gilbert, Bestselling author of EAT, PRAY, LOVE

"Part cookbook, part survival guide, Dinner: A Love Story has all of Jenny's favorite meal ideas, suppertime tips, and cook's secrets (read: cocktails) that help make dinner fun again"
— Everyday Food

"[Rosenstrach] entertains with her wonderful writing skills, persuades by sharing her successful strategies, and educates via research and relayed experience… this book shines."
— Library Journal

"A humorous and encouraging book for readers who believe in the importance of family dinnertime."
— Kirkus Reviews

"I can't decide which I like more—reading this book or cooking from it. Jenny is that rare writer who can literally make you laugh and cry—and most importantly, she inspires you to stop just talking about dinner and start making it."
— Adam Rapoport, Editor in Chief, Bon Appétit

"Rosenstrach emphasizes her strong belief that the family who eats together stays together and combines stories and recipes in this essential collection."
— Publishers Weekly

"Dinner gives me hope that one day my family will also assemble around an actual table and eat an actual meal that was actually cooked by me; a meal not solely comprised of animal shaped cheese crackers dipped in hummus. Although those are good too."
— Samantha Bee, Most Senior Correspondent, The Daily Show with Jon Stewart, and bestselling author of I Know I Am But What Are You?

"Warm, funny, packed with recipes and photos, and reassuringly nonjudgmental, it will help inspire the most faint-hearted of cooks to pre-heat the oven."
— Gretchen Rubin, #1 New York Times bestselling author of The Happiness Project

"The family dinner, that forum for manners, taste-making, storytelling, and memorable arguments, is no small subject. Jenny Rosenstrach tackles it with gusto as she shares her fascinating story of learning to feed her family....[N]ot only a wonderful read, but a book studded with excellent recipes and tips."
— Amanda Hesser, co-founder of FOOD52.com

"…compelling…more than just another cookbook. We love Rosenstrach because her writing is natural, honest, and smart"
— Bon Appétit

"At first glance, it's a cookbook, based on a blog, by Jenny Rosenstrach, a magazine columnist and editor who lives outside New York City. But really, it's a memoir, and also a how-to manual: a smart, pragmatic, warm and thoughtful guide…"
— Wired.com