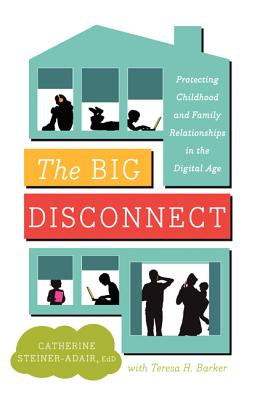 The Big Disconnect
Protecting Childhood and Family Relationships in the Digital Age
Hardcover

* Individual store prices may vary.
Other Editions of This Title:
Digital Audiobook (8/12/2013)
Description
Wall Street Journal Best Nonfiction Pick; Publisher's Weekly Best Book of the Year
Clinical psychologist Catherine Steiner-Adair takes an in-depth look at how the Internet and the digital revolution are profoundly changing childhood and family dynamics, and offers solutions parents can use to successfully shepherd their children through the technological wilderness.
As the focus of the family has turned to the glow of the screen—children constantly texting their friends or going online to do homework; parents working online around the clock—everyday life is undergoing a massive transformation. Easy access to the Internet and social media has erased the boundaries that protect children from damaging exposure to excessive marketing and the unsavory aspects of adult culture. Parents often feel they are losing a meaningful connection with their children. Children are feeling lonely and alienated. The digital world is here to stay, but what are families losing with technology's gain?
As renowned clinical psychologist Catherine Steiner-Adair explains, families are in crisis as they face this issue, and even more so than they realize. Not only do chronic tech distractions have deep and lasting effects but children also desperately need parents to provide what tech cannot: close, significant interactions with the adults in their lives. Drawing on real-life stories from her clinical work with children and parents and her consulting work with educators and experts across the country, Steiner-Adair offers insights and advice that can help parents achieve greater understanding, authority, and confidence as they engage with the tech revolution unfolding in their living rooms.
Praise For The Big Disconnect: Protecting Childhood and Family Relationships in the Digital Age…
"This riveting piece of journalism . . . chronicles how new technology has disrupted family life. Parents pacify infants with iPhones, toddlers play violent games and pre-teens are sexting. The book offers no easy answers but gently encourages all of us who lack the discipline to unplug."
— Wall Street Journal, Best Nonfiction of 2013

"Ms. Steiner-Adair's book can be eloquent about the need to ration our children's computer time. . . . Her summary of what to say to your kids - it's on Page 191- is so good, so State of the Unionlike, that I took a photo of it with my iPhone."
— Dwight Garner, New York Times

"Psychologist Catherine Steiner-Adair says tech-and self-absorption disappoints and disregards our children."
— USA Today

"An important guide to an occasionally overlooked aspect of modern parenting."
— Kirkus Reviews

"Do your kids a favor and read this important book."
— Christian Science Monitor

"A riveting, hugely important book that every parent will want to read. . . . A great book, rooted in massive research, told in vivid, charming, unforgettable narrative, conveying a message of the utmost relevance today."
— Edward M. Hallowell, MD, author of The Childhood Roots of Adult Happiness

"This is a must read for parents and educators. Parents will embrace Steiner-Adair's step-by-step solutions, focused on building deeper and more meaningful family relationships; teachers will better understand the need to manage the double-edged sword of technology as a tool for learning."
— Nanci Z. Kauffman, Head of School, Castilleja School, Palo Alto, CA

"Catherine Steiner Adair with great wisdom, and compassion for our confusion, helps lead us out of this technological thicket. . . . A mandatory read for our own sake as well as the sake of our children."
— Madeline Levine, PhD, author of Teach Your Children Well and The Price of Privilege

"I absolutely love this book. Dr. Steiner-Adair offers wonderful suggestions for dealing with issues the new tech world has brought upon us--all based on the reassuring premise that the family shapes a child's brain, mind, body and soul in unique human ways that technology can't replace."
— Susan Ginsberg EdD, author of Family Wisdom: The 2000 Most Important Things Ever Said about Parenting, Children and Family Life

"Finally, a book that comprehensively answers the question parents everywhere have been struggling with: How to raise happy, creative, caring kids in the age of screens? The Big Disconnect is not just a smart book, it's a very, very wise one."
— William Powers, author of Hamlet's Blackberry

"In a book that should be required reading for all parents, Steiner-Adair examines the extraordinarily negative impact of the digital revolution on parents and children. . . . [A] highly readable study.'"
— Publishers Weekly (starred review)

"Dr. Catherine Steiner-Adair has her finger on the pulse of the social and emotional challenges kids face in today's 24/7 media culture. Take her insight to heart. As parents, we can help our kids walk the thin line between the perils and possibilities of digital life."
— James P. Steyer, CEO and Founder, Common Sense Media

"The Big Disconnect offers terrific parenting advice that transcends technology, tackling issues like self-identity, navigating friendships and sex. Its message is not exclusive to kids, but aimed at every family member: stay connected to people and nature as often as possible."
— Associated Press

"Those who haven't spent much time 'IRL' with their kids lately will recognize their own households in the pages of The Big Disconnect. . . . [Catherine Steiner-Adair] wants us to reclaim the immemorial rhythms of the hearth and shield our children from the...digital age."
— Wall Street Journal

"In her insightful and compelling new book, Catherine Steiner-Adair reveals how technology and the Internet are fragmenting American families, leaving parents confused and children lonely. Put down your smartphone and read this book!"
— Michael Thompson, PhD, co-author of Raising Cain and author of Homesick and Happy

"This is an unsettling but necessary book, confirming what parents probably already know but do their best not to think about. . . . Steiner-Adair provides helpful suggestions for parents seeking to limit tech time and re-engage with their children."
— New York Times Book Review
Harper, 9780062082428, 384pp.
Publication Date: August 13, 2013
About the Author
Catherine Steiner-Adair, EdD, is an internationally recognized clinical psychologist, school consultant, author, and speaker. She maintains a private practice in Massachusetts, is a clinical instructor in the Department of Psychiatry at Harvard Medical School and an associate psychologist at McLean Hospital, and speaks worldwide to numerous audiences, including educators, health professionals, PTAs, religious groups, corporations, and nonprofit organizations.
or
Not Currently Available for Direct Purchase