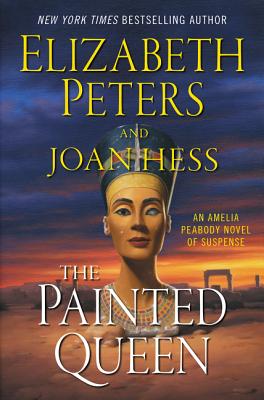 The Painted Queen
An Amelia Peabody Novel of Suspense (Amelia Peabody Series #20)
Hardcover

* Individual store prices may vary.
Other Editions of This Title:
Digital Audiobook (7/24/2017)
Mass Market (5/29/2018)
Paperback, Large Print (7/25/2017)
Compact Disc (7/25/2017)
MP3 CD (7/25/2017)
Compact Disc (7/25/2017)
Description
Egypt, 1912—Amelia Peabody and her dashing archeologist husband, Radcliffe Emerson, are once again in danger as they search for a priceless, stolen bust of legendary Queen Nefertiti and Amelia finds herself the target of assassins in this long-awaited, eagerly anticipated final installment of Elizabeth Peters' bestselling, beloved mystery series.
Arriving in Cairo for another thrilling excavation season, Amelia is relaxing in a well-earned bubble bath in her elegant hotel suite in Cairo, when a man with knife protruding from his back staggers into the bath chamber and utters a single word—"Murder"—before collapsing on the tiled floor, dead. Among the few possessions he carried was a sheet of paper with Amelia's name and room number, and a curious piece of pasteboard the size of a calling card bearing one word: "Judas." Most peculiarly, the stranger was wearing a gold-rimmed monocle in his left eye.
It quickly becomes apparent that someone saved Amelia from a would-be assassin—someone who is keeping a careful eye on the intrepid Englishwoman. Discovering a terse note clearly meant for Emerson—Where were you?"—pushed under their door, there can be only one answer: the brilliant master of disguise, Sethos.
But neither assassins nor the Genius of Crime will deter Amelia as she and Emerson head to the excavation site at Amarna, where they will witness the discovery of one of the most precious Egyptian artifacts: the iconic Nefertiti bust. In 1345 B.C. the sculptor Thutmose crafted the piece in tribute to the great beauty of this queen who was also the chief consort of Pharaoh Akhenaten and stepmother to King Tutankhamun.
For Amelia, this excavation season will prove to be unforgettable. Throughout her journey, a parade of men in monocles will die under suspicious circumstances, fascinating new relics will be unearthed, a diabolical mystery will be solved, and a brilliant criminal will offer his final challenge . . . and perhaps be unmasked at last.
Praise For The Painted Queen: An Amelia Peabody Novel of Suspense (Amelia Peabody Series #20)…
"[T]he Emerson clan takes a fitting final bow as the curtain falls on a pioneering career." — Publishers Weekly (starred review)
"Devoted Amelia Peabody fans will read this book with tears in their eyes as they bid farewell to these much-loved characters (and author)." — Library Journal
"Amelia has really pitched a tent in our hearts." — Philadelphia Inquirer
"Amelia Peabody, the bossy archaeologist in Elizabeth Peters's romantic adventures set in Egypt at the end of the last century, makes a perfect companion for a cruise up the Nile." — New York Times
"Amelia is rather like Indiana Jones, Sherlock Holmes and Miss Marple all rolled into one." — Washington Post Book World
"Peters's wily cast of characters keeps the reader coming back for more." — San Francisco Chronicle
"Grand adventure." — Toronto Sun
"[A] jewel of a series." — New York Times Book Review
"Deeply satisfying. . . . The joy of the Amelia books has always been their elegant sense of humor . . . Peters manages to satirize romantic thrillers while producing some of the finest in the genre." — Entertainment Weekly
"Once again, MWA Grandmaster Peters uses vivid settings, sharp characterizations, and deft dialogue to transport the reader to another time and place." — Publishers Weekly
"No one is better at juggling torches while dancing on a high wire than Elizabeth Peters." — Chicago Tribune
"Deeply satisfying. . . . The joy of the Amelia books has always been their elegant sense of humor . . . Peters manages to satirize romantic thrillers while producing some of the finest in the genre." — The New York Times Book Review
William Morrow, 9780062083517, 352pp.
Publication Date: July 25, 2017
About the Author
Elizabeth Peters earned her Ph.D. in Egyptology from the University of Chicago's famed Oriental Institute. During her fifty-year career, she wrote more than seventy novels and three nonfiction books on Egypt. She received numerous writing awards and, in 2012, was given the first Amelia Peabody Award, created in her honor. She died in 2013, leaving a partially completed manuscript of The Painted Queen.
Joan Hess was the author of the Claire Malloy Mysteries and the Arly Hanks Mysteries, formally known as the Maggody Mysteries. She was a winner of the American Mystery Award and the Agatha Award (for which she was nominated five times), a member of Sisters in Crime, and a former president of the American Crime Writers League. She died in November 2017, four months after the publication of The Painted Queen.
or
Not Currently Available for Direct Purchase