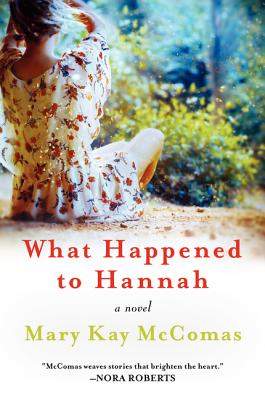 What Happened to Hannah (Paperback)
A Novel
William Morrow Paperbacks, 9780062084781, 352pp.
Publication Date: February 7, 2012
* Individual store prices may vary.
Description
"Blending poignancy with humor, crafting characters as real and recognizable as your next-door neighbor, Mary Kay McComas weaves stories that brighten the heart."
—Nora Roberts
"I love Mary Kay McComas."
—Patricia Gaffney
What Happened to Hannah? is a novel of love, hate, loss, and redemption; of a life full of unfinished business. New York Times bestselling author Mary Kay McComas weaves an unforgettable tale of a loner who is called back by tragedy to the home she ran away from years earlier, and finds herself the sole responsible party for a troubled teenage niece. Powerfully moving, deeply emotional, What Happened to Hannah? is superior contemporary woman's fiction that fans of Kristin Hannah, Kristina Riggle, and Jennifer McMahon will take deeply into their hearts and hold there forever.

About the Author
Mary Kay McComas started her writing career twenty-five years ago. To date she's written twenty-one short contemporary romances and five novellas; Something About Sophie is her third novel. She was born in Spokane, Washington, and now lives in a small town in the beautiful Shenandoah Valley of Virginia with her husband, three dogs, a cat, and her four children nearby.
Praise For What Happened to Hannah: A Novel…
"Blending poignancy with humor, crafting characters as real and recognizable as your next-door neighbor, Mary Kay McComas weaves stories that brighten the heart."
— Nora Roberts

"I love Mary Kay McComas. Her books are honest and real, and transport you to a place that feels like home."
— Patricia Gaffney

"It is hard not to be moved by the tender love story that emerges from the depths of violence in this haunting and touching novel. You will never forget What Happened To Hannah."
— Jessica Anya Blau

"a touching tale of trauma, healing, and family...McComas builds the relationship between Hannah and Anna deftly, showing how hard it can be for strangers who happen to be family to know each other."
— Publishers Weekly

"Hannah Benson is a memorable character of uncommon strength. From the unthinkable horror of the past to the glimmering possibility of love in the present, What Happened to Hannah is a stirring novel of family and redemption."
— Kristina Riggle, author of Keepsake

"[an] inventive contribution…that steals the show. McComas focuses on the most important relationship of all—the relationship one has with oneself—and spins an introspective and irresistible story that, for some readers, may make this collection worthwhile."
— Publishers Weekly on "Melon Lemon Yellow" in Bump in the Night

"McComas...writes a bittersweet tale of homecoming.
— Booklist

"...a vibrant, haunting tale of a woman trying to discard the past once and for all in order to begin again. A powerful story with a beautiful plot that will have readers routing for peace, romance, and second chances."
— Feathered Quill

"Mary Kay McComas has written a poignant tale of the prolonged effects of domestic abuse."
— Iron Mountain Daily News
How do the children impact Hannah? Do you think they help Hannah deal with her own childhood? Which one was your favorite?
Do you think Hannah feels love and resentment toward her mother in equal parts? Or one more than the other? Are her emotions understandable? As an adult, after years of therapy and an educated awareness of the dynamics of her family, do you feel her reactions to her present situation appropriate?
What was your favorite scene and why?
Were you able to find any symbolism in the story? For example: Hannah purging her memories and emotions while purging her childhood home.
Hannah clearly grew and changed during the story.What about Grady? What adjustments did he make in his thinking? How did Hannah's return to Clearfield alter him?
Love isn't something to be wasted or ignored. When Hannah and Anna finally moved back to Baltimore, Hannah was testy, short tempered, and missing Grady. Do you think she might have eventually conquered her feelings and moved back to Clearfield to be with him if he hadn't come to her?
There's a little storyteller in everyone. If you could rewrite any part of Hannah's story what would it be? And how would you tell it?